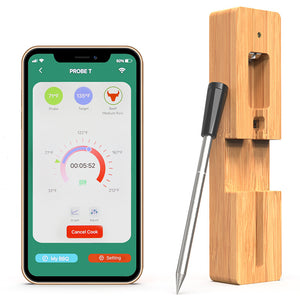 High Temperature Resistant

High temperature resistant material. Monitor meat internal temperature from 0 to 100°C.

Fast Charging

Fast USB charging. 5-10 minutes to charge. Last for 4 hours.

Waterproof

IPX7 outdoor waterproof rating. Can be used in the rain, support running water rinse and short immersion.
Great tool
Because of the performance of the air fryer by JoyOuce I bought this thermometer . It didn't let me down. This takes all the guesswork out of cooking in the grill or oven.
Worth every penny
This is amazing! I love salmon, I just baked salmon in a smoker and used this. 125℉ medium rare, it was the best temp, was shocked, it was the best grilled salmon I've ever made. It's definitely delivered.
Excellent Bluetooth thermometer
The only problem I encountered was that the wireless Bluetooth model meat thermometer's ambient temperature reading on the app was far from the smoker's temperature reading throughout, but Joyouce's results were satisfactory to me. Just as described
Recommend it
I recommend this wireless meat thermometer because it really solves my problems better than any unrealistic advice and it works great. If you're guilty of over cooking food. This will make your meats come our great every time.
I don't regret buying it
My original food thermometer broke. I am looking for an upgraded product to replace it. Luckily I found this JoyOuce wireless smart meat thermometer, it's so powerful it can even estimate how long the meat needs to cook, it's worth buying!