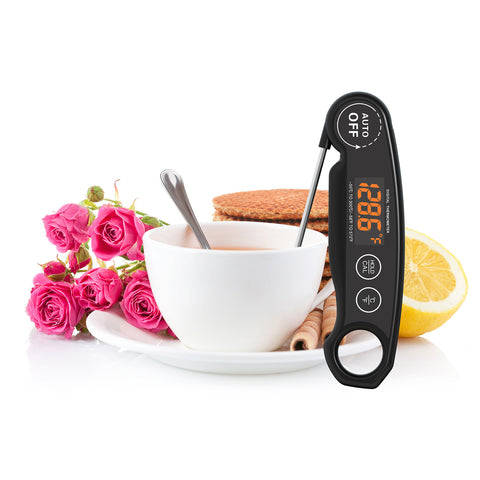 ● INSTANT READ FOOD THERMOMETER
Our cooking thermometer features a 304 food-grade safety stainless steel probe and a high-precision sensor to quickly receive the internal temperature within 3~4 seconds, accurate to ±2°F, degrees with a wide range of -58℉~572℉,and lock the temperature so that you don't have to spend extra time near the heat source. High-precision provide a more precise reference for your cooking, be your own cooking master!
● RECHARGEABLE DIGITAL MEAT THERMOMETER
Perfect digital cooking thermometer for meat is built-in 3.0V rechargeable battery, fully charged in about an hour,do not worry about changing batteries frequently. The battery icon on the screen will always remind you of the battery level and escort your temperature measurement.
 ● WATERPROOF AND MAGNETIC BBQ THERMOMETER
The digital food thermometer for cooking has an IP65 waterproof rating, it is not afraid of rinsing under running water, and the quick cleaning saves our cooking time. The powerful magnet function designed on the back can be directly attached to the surface of the refrigerator or other metal tools, or can be placed directly by the ring hook, which does not occupy any extra space and is very convenient for storage.
● EASY-READ DIGITAL COOKING THERMOMETER

Our digital meat thermometer for cooking steak, chicken,pork and other poultry displays the temperature of your food on a large LED screen, means you can always read the food temperature, whether you're grilling in the dark or baking in the kitchen.
● MULTI-USE
The JoyOuce kitchen thermometer is perfect for meat, candy making, beverages, frying oil, baking bread, BBQ, grill, beer, soup, crockpot, turkey, and more.
● WHAT YOU GET
An instant read thermometer, a USB charging cable,instructions, and 100% satisfactory service from JoyOuce.
Ordered a 2nd one
The first one is for myself, the measurement speed is fast and accurate, and it is easy to use. Now I feel that I can't live without it for BBQ. Order this one for my parents!
Very reliable
This tool works well and is easy to use, clean and store.I've had it for several months and have had no issues with it. I even bought one for my parents!
My wife loves it
My wife says it's the best meat thermometer she's ever had. That's good enough for me since I get to enjoy delicious meal made by her.