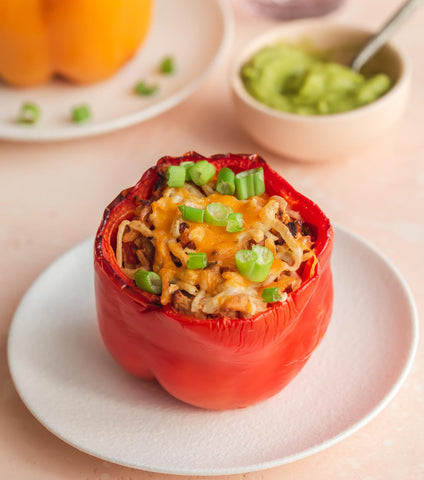 It seems to be a very creative recipe to fill all kinds of favorite foods in large bell peppers. These large bell peppers are stuffed with ground beef, cooked brown rice, and mozzarella cheese. This is definitely the perfect combination of big bell peppers and beef filling. We can prepare a big meal for family and friends in advance.
Ingredients
1 pound (450 g) lean beef
1 1/2 (225g) cup cooked brown rice
1 1/4 cups (150 g) diced yellow onion
1 1/4 (115g) cup shredded mozzarella cheese
1 teaspoon dried oregano
1-2 bunches of green onions
1 teaspoon sea salt
1/2 teaspoon paprika
6 large bell peppers
Practice
step1
Heat a large pan with oil to medium heat. Add the ground beef to the frying pan. When it turns brown, add cooked rice, dried oregano, diced onion, salt and paprika, and let everything mix thoroughly. Turn off the heat and put the pan aside.
step2
Cut off the top of the bell pepper. You don't need to cut a lot; just enough to remove the stem. Remove the seeds and film inside the pepper.
step3
Fill the bell peppers with beef mixture and air-fry at 375ºF for 12 minutes. Put cheese on top and fry for another 6-8 minutes at 375ºF. Finally, sprinkle chopped green onion.