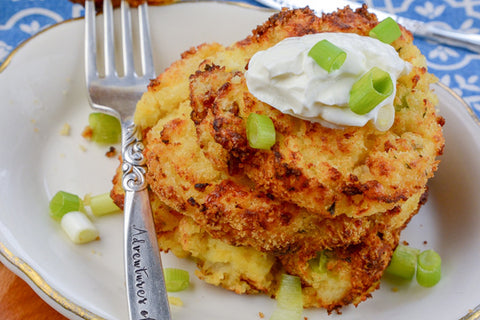 Eat too many potato chips, fried potatoes, have you ever thought about cooking potatoes in a different way? This time, our JoyOuce Kitchen made a recipe for mashed potato pancakes. These mashed potato pancakes are crispy on the outside and tender on the inside. They are fragrant and delicious. What's more, they are a favorite side dish or afternoon tea for the whole family.
Ingredients
2 cups cold mashed potatoes (potatoes are cooked and crushed)
1 cup cheddar cheese
2 strips of cooked bacon (cut into small pieces)
2 eggs (beaten)
2 tablespoons flour
1 cup panko breadcrumbs
1 scallion, diced
Salt and pepper to taste
Some olive oil
Practice
step1
Set the air fryer to 380°F for preheating
step2
Take a medium bowl, add mashed potatoes, cheddar cheese, chopped bacon, eggs, flour, green onions, salt and pepper and mix well. Make a pie shape.
step3
Wrap panko breadcrumbs on all sides of the pie-shaped mashed potato, put it in the refrigerator for about 15 minutes, until it is solid and maintains its shape.
step4
Spread a layer of parchment paper on the frying basket, brush with a layer of olive oil, put the fixed mashed potato cakes into the frying basket one by one, set for 15 minutes. At 10 minutes in the middle, pull the basket out and turn it over. After 15 minutes or until the mashed potato pancakes are browned, it's done.