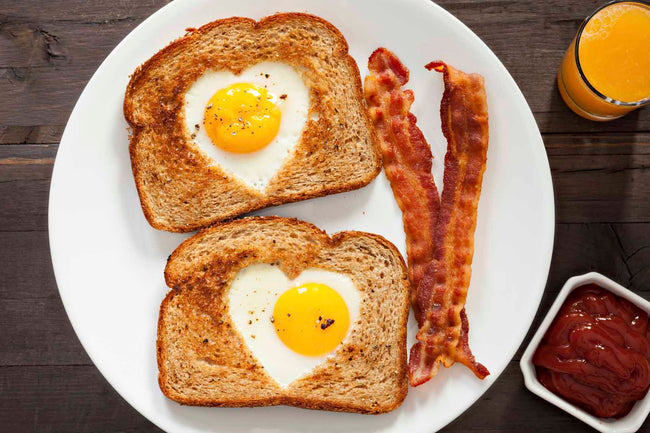 Do you feel that the daily breakfast is very simple and uncreative? Don't worry, let's make an innovative breakfast with eggs and toast. Just a few minutes in JoyOuce air fryer, you can enjoy a good breakfast. A good mood for the day begins here.
Ingredients
2 slices of wheat bread
2 eggs
2 tablespoons butter (melted)
Salt and pepper 
Practice
step1
Use a mold with a heart-shaped hole on the wheat bread, cut off a piece of heart-shaped bread in the middle of the wheat bread, and brush butter on both sides and the middle of the bread.
step2
Put a piece of parchment paper on the air fryer frying basket, brush with a layer of butter, put the wheat bread into the frying basket, punch the egg into the heart-shaped hole of the wheat bread, sprinkle a small amount of salt and Pepper to taste.
step3
Set the air fryer to 350°F for 5 minutes, until the egg whites and yolks are solidified and the egg whites turn white. If possible, sprinkle with parsley for garnish.
step4
Take out the chicken breast and Brussels sprouts and place them on a plate, let them sit for a few minutes, and then sprinkle with parsley. You can dip it in ketchup or your favorite sauce.
Did you like this recipe? Let's create delicacy with JoyOuce air fryer to save more cooking time!
Limited-time exclusive discount! Use code LUCKY023 at checkout. Enjoy 25% off plus free shipping. Click here!Shop Now