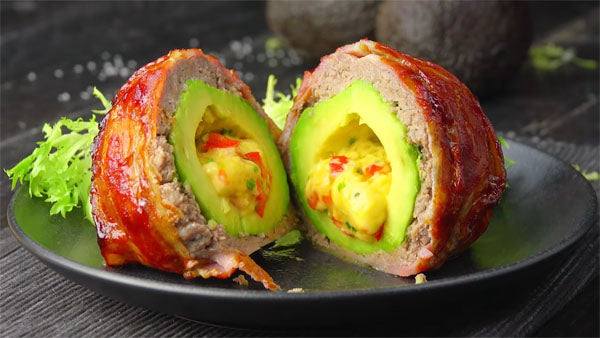 This is an innovative recipe, can you imagine cooking avocados in an air fryer? Add mixed ground beef, shredded cheddar cheese, and bacon to the avocado, the perfect filling combination. The final avocado is fragrant, crispy, and full of nutrients. It is a delicious snack that cannot be missed.
Ingredients
1/2 red bell pepper, diced
2 avocados
2 ounces shredded cheddar cheese
10 sticks of bacon
10 ounces ground beef
A few green onions chopped
Moderate amount of salt
1/2 small cup barbecue sauce
Practice
step1
Preheat the air fryer and set the temperature to 350℉.
step2
Cut the avocado in half and remove the core and skin. Use a spoon to scoop out some of the avocado pulp into a bowl. Add diced red bell peppers, green onions, salt and shredded cheddar cheese to a bowl and mix well.
step3
Scoop the well-stirred mixture into the center of the avocado one by one. Put the two halves of the avocado together, squeeze it hard, and then wrap the ground beef around the avocado, all around it, leaving no gaps.
step4
Wrap the avocado with 5 sticks of bacon so that the ground beef is not exposed. Then brush all sides of the bacon with barbecue sauce, put it into the preheated air fryer basket, and set the time to 30 minutes.
step5
During the cooking process, pull out the frying basket every 10 minutes and turn the avocado over. When turning the avocado for the second time, brush the surface of the bacon with barbecue sauce again.
Did you like this recipe? Let's create delicacy with JoyOuce air fryer to save more cooking time!

Limited-time exclusive discount! Use code LUCKY023 at checkout to enjoy 25% off plus free shipping. Click here!Shop Now