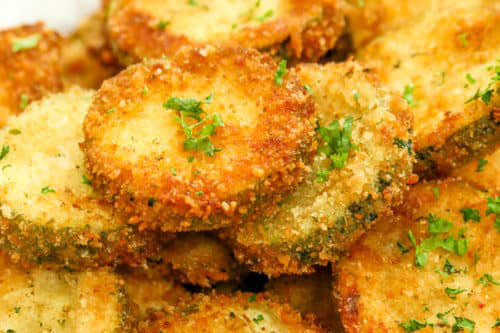 These golden and crisp fried zucchini are cooked in the JoyOuce air fryer. Coat fresh, sliced zucchini with breadcrumbs, spray only a little oil and set the time to 15 minutes. All right, wait quietly. The process is not long at all. Finally, you can also match your favorite sauce, you and your family can enjoy this delicious crispy zucchini together.
Ingredients
2 medium zucchini
1/2 cup Panko breadcrumbs
2 eggs, beaten
3 teaspoons grated Parmesan cheese
1/2 teaspoon dried oregano
1/4 teaspoon chili powder
1/4 teaspoon ground pepper
1/2 teaspoon salt
Olive oil cooking spray
Practice
step1
Wash and dry the zucchini and cut into thin slices. Add breadcrumbs, parmesan cheese, dried oregano, paprika, pepper, and salt to a bowl and mix well.
step2
Put a piece of parchment paper in the air frying basket, and spray the parchment paper with olive oil cooking spray several times.
step3
Dip the thinly sliced ​​zucchini in the beaten eggs, take out the zucchini slices and put them in the breadcrumb mixture until the zucchini is covered with a thick layer, and then put them in the frying basket in turn. When putting the zucchini slices in the basket, don't get too full, leave a little space around.
step4
After the zucchini single layer is filled with the basket, set it to 375°F for 14 minutes. In the middle of cooking, remember to pull out the frying basket and turn the zucchini over.
Did you like this recipe? Let's create delicacy with JoyOuce to save more cooking time! Click here!Shop Now