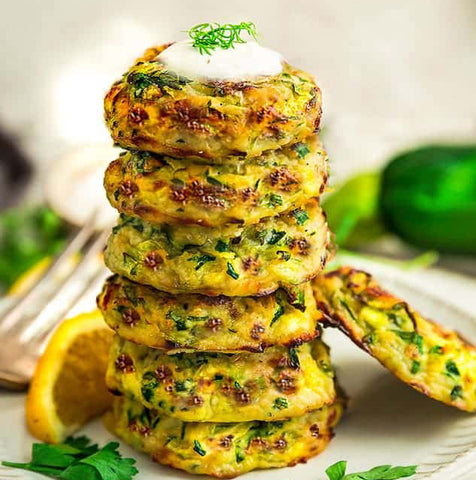 2 tablespoons refined flour

Instructions
step1
Use a grater to grind the zucchini. In a mixing bowl, mix the grated zucchini with a pinch of salt and let stand for 10-15 minutes. Then use clean hands to squeeze out the excess water from the zucchini.
step2
In addition, mash the cooked potatoes.
step3
Put the zucchini, potatoes, corn kernels, corn starch, refined flour, garlic, salt and pepper into a mixing bowl.
step4Put the parchment paper in the frying basket of the air fryer, and brush a layer of olive oil on the parchment paper.
step5
Take about 2 tablespoons of batter, shape it into a meatloaf shape, and place it on parchment paper. The surface of each zucchini tortilla should not touch each other.
step6
Gently brush the surface of each zucchini tortilla with a layer of oil. Set the air fryer to 360°F for 7 minutes.
step7
Then open the frying basket and flip the zucchini tortillas. Cook again at 375°F for 4 minutes or until cooked through.