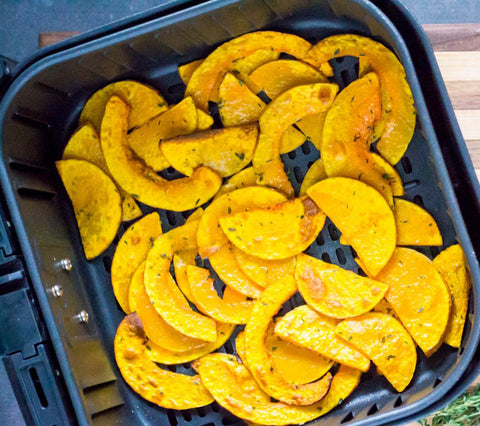 Air fried pumpkin recipe, this is the best benefit for a weight loss person. Pumpkin cooked in an air fryer has a refreshing taste. Don't worry about whether it will be greasy or not because it uses only a little oil. It is a fast and delicious side dish, which can promote gastrointestinal motility, and is very suitable for you who are in shape.
Ingredients
1 medium pumpkin
2 tablespoons olive oil
1 teaspoon salt
Appropriate amount of fresh rosemary (chopped)
Practice
step1
Preheat the air fryer to 380℉.
step2
Wash the pumpkin, dry it and cut off the end of the head, then cut from the head to the root and cut in half. Use a spoon to dig out the seeds and pulp inside (the seeds can be used as a snack for pumpkin seeds, and the pulp is thrown away). Then cut into moon-shaped thin slices.
step3
Put the sliced slices into a large bowl, add olive oil, salt and chopped rosemary and stir well.
step4
Pour the pumpkin into the pre-heated frying basket. The pumpkin slices should not overlap too closely. Set the temperature of 380°F, the time is 12 minutes.
step5
During the cooking process, remember to open the air fryer to shake and turn the pumpkin slices.
Did you like this recipe? Let's create delicacy with JoyOuce air fryer to save more cooking time!
Limited-time exclusive discount! Use code LUCKY023 at checkout. Enjoy 25% off plus free shipping. Click here!Shop Now