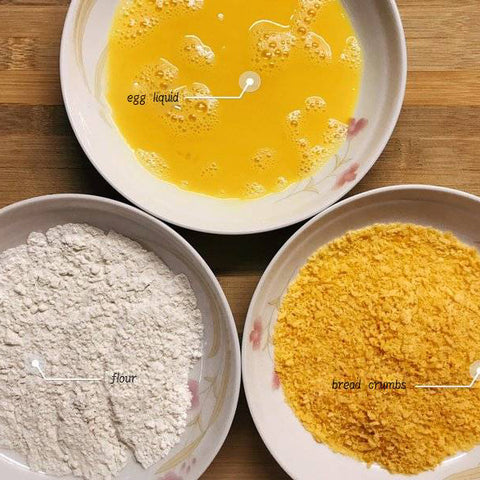 Tonkatsu ingredients:
♦ 350g pork loin
♦ salt;
♦ An appropriate amount of pepper
♦ 1 tablespoon of flour
♦ 1 egg
♦ 1 tablespoon of yellow bread crumbs
♦ 5 slices of lettuce

Production steps:
step1
You can choose bone-in or boneless pork chops. Boneless pork chops are a little easier to eat


step2
Before battering the pork chops, let them sit out of the refrigerator for a few minutes. If they are room temperature when you cook them, they will cook more evenly.

When you select your pork chops look for a pink tinge to the meat, it is a sign of fresh meat and higher quality. Be sure to avoid greenish looking pork chops.

step3
The seasoned pork tenderloin is dipped in flour, egg liquid, and bread crumbs in turn.

step4
Pork chops get tough when they are overcooked. To ensure that the pork is not overcooked, you can use a meat thermometer to cook the pork to 145 degrees F. Otherwise, just be careful to take out the pork chops when they are golden brown to avoid leaving them in the pan too long.


step5
The prepared pork chops are cut and placed on the shredded lettuce, which can be squeezed with salad dressing or tomato sauce.