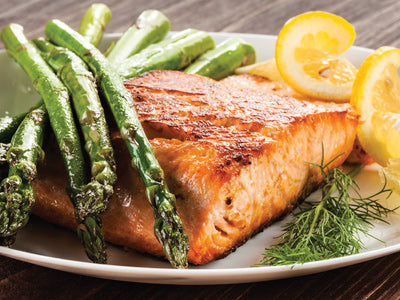 Ingredients
10 ounces salmon fillet (2 slices

1 tablespoon olive oil, divided

1 teaspoon kosher salt

1 teaspoon ground black pepper

1/2 teaspoon garlic powder

1 tbsp honey

1 tablespoon mustard

Half a lemon

8 ounces asparagus

Instructions
step1
Preheat the air fryer to 400 ℉;
step2
Brush the salmon fillets with about half of the olive oil, then lightly sprinkle with salt and pepper and drip a few drops of lemon juice;
step3
In a small bowl, mix garlic powder, honey and mustard; brush on the top of the fish fillet to make the ingredients stick to the fish;
step4
Place the salmon in the fried blue and cook at 400°F for 6 minutes;
step5
Stir the asparagus with the remaining oil and season with salt and pepper. Place the asparagus around the salmon. Continue to cook for 4 to 5 minutes, or until the salmon is cooked through and the asparagus is tender;
step6
Transfer salmon and asparagus to one or two plates, with lemon slices next to them.