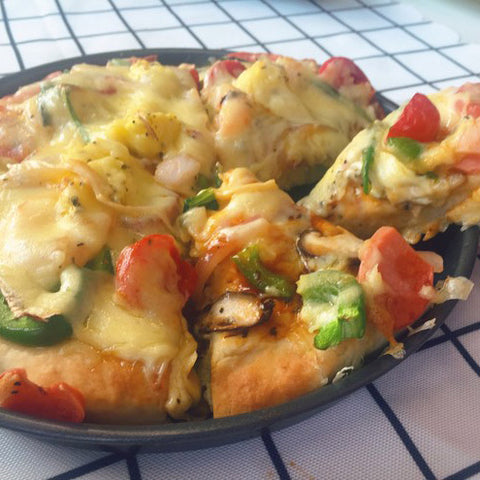 Ingredients
♦High-gluten flour 140g
♦Low-gluten flour 60g
♦90 grams of warm water
♦5 grams each of salt and yeast
♦15 grams each of white sugar and butter
♦3 tablespoons of pizza sauce (just spread it all over)
Onions, green peppers, shiitake mushrooms, small tomatoes, shrimps and ham as you like cheese as much as possible.


Instructions
step1
Mix high-gluten flour, low-gluten flour, salt, sugar, and yeast, and add the butter to the mixed flour after the heat insulation water melts.Slowly pour warm water into the flour, stir with chopsticks during the process, after the flour becomes flocculent, start to knead the dough.
step2
Ferment for 1h at room temperature after kneading.
step3
Use the time of dough fermentation to process the ingredients, shred onions and green peppers, slice small tomatoes, ham, mushrooms, and pineapple.
step4
Knead the dough again for 5 minutes for exhausting air, and then ferment for 15 minutes.
step5
Press the dough into a crust and put it in a baking pan (8-inch baking pan is suitable).
step6
Poke holes in the pizza with a fork.
step7
Preheat at 180℃ for 8 minutes with JoyOuce air fryer , put the crust in, and heat it for 5 minutes at the same temperature.
step8
Take out the crust, brush with pizza sauce, and spread a layer of cheese.
step9
Start putting ingredients! According to your preference, put ham, sprinkle some cheese and butter; put onions and mushrooms, and then sprinkle a layer of cheese; put tomatoes, green peppers, small wild vegetables, shrimp, and sprinkle cheese; anyway, the more cheese, the better. 
step10
Put the pizza in the air fryer. Bake at 180°C for 11 minutes is almost the same, you can take it out in the middle to check the progress and adjust the time.
step11
Take out the pizza (be careful about it) and slice it, and two people will be full! It's really good, it's delicious and crying.