One-Pot Cajun Chicken Pasta
---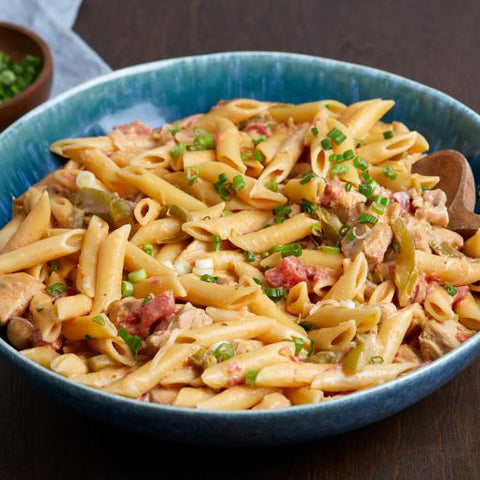 Ingredients
♦Deselect All
♦2 tablespoons olive oil
♦1 pound boneless, skinless chicken thighs (about 4), cut into 1-inch pieces
♦2  1/2 teaspoons Cajun seasoning
♦
♦
♦cutting
♦
♦
♦
♦
♦
♦

Instructions
step1
Heat the oil in large wide pot over medium-high heat. Add the chicken and Cajun seasoning and cook, stirring occasionally, until the chicken just starts to change color and the spices are toasted, about 2 minutes.
step2
Add the peppers and onions and cook until they just begin to release some of their juices, 3 to 4 minutes. Stir in the garlic and cook until softened, 1 minute.
step3
Add the pasta, chicken broth and tomatoes and bring to a boil over medium-high heat. When it boils, continue to cook, stirring occasionally, until the pasta is al dente and the sauce is thickened and reduced by about half, about 15 minutes.
step4
Remove from the heat and add the cream cheese and 1 1/2 teaspoons kosher salt. Stir until the cream cheese is combined and melted. Don't worry if the sauce looks runny, it will thicken as it sits. Top with sliced scallions.