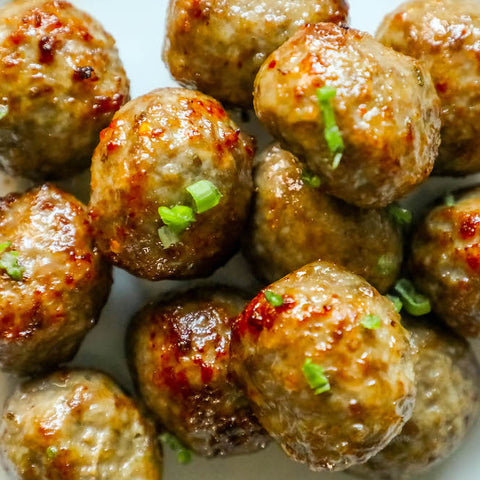 Ingredients
♦ 500g minced pork
♦ Eggs 4-5
♦ Salt to taste
♦ 2 tsp five-spice powder
♦ 1 steamed bun
♦ 1 spoon of pepper
♦ Lotus root 1 section
♦ Chicken essence
♦ Chopped green onion
♦ 1 piece of ginger minced
 
Instructions
Step 1
Minced pork, add ginger, salt, five spice powder, pepper, chicken essence and stir in one direction.
Step 2
Add eggs and continue to stir in one direction.
Step 3
Peel the cold steamed buns, tear them into pieces, or stir them.
Step 4
Use a food processor to break the lotus root into pieces and mix with the minced meat for a while.
Step 5
Then squeeze it by hand to squeeze out the round meatballs and scrape them out with a spoon. If they are not round enough, you can adjust them by hand.
Step 6
Adjust the JoyOuce air fryer to 200℃ for 9-10 minutes. In the middle of 6 minutes, you can pull out the basket to have a look and turn it over.
Step 7
It's fried! Sprinkle green onion on the plate, fragrant and crisp.