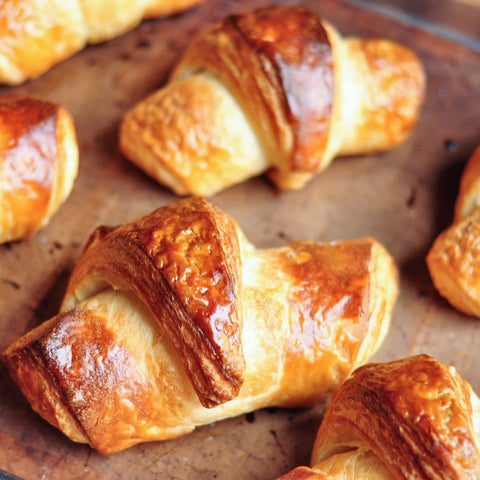 Ingredients
♦300g high-gluten flour
♦Low-gluten flour 60 grams
♦14 grams of milk
♦6 grams of salt
♦Sugar 30~50g (according to personal taste)
♦210 grams of water
♦4 grams of dry yeast
♦180 grams of butter
♦1 egg

Instructions
step1
Except butter, mix all the ingredients well, knead and strengthen until the surface of the dough is smooth and clean.
step2
Add 20g butter and knead it smoothly.
step3
Relax the dough for 10 minutes at room temperature.
step4
Roll out the dough about 35 cm in length and 20 cm in width, and put it in the refrigerator for 30 minutes.
step5
160g butter, thawed at room temperature, roll out the plastic wrap about 20 cm in length and 18 cm in width, and put it in the refrigerator for about 20 minutes.
step6
Take out the frozen dough and put the frozen butter in the middle of the dough.
step7
Fold both sides of the dough, press it into a strip with a rolling pin, and fold both ends into a square shape.
step8
Press the dough lightly with a rolling pin, and roll the dough to a length of about 40 cm and a width of about 15 cm.
step9
Same as above, fold up both ends, form a cube, put it in the refrigerator and freeze for about 30 minutes.
step10
Take out the frozen dough, tap lightly with a rolling pin, and roll the dough about 40 cm long and 15 cm wide.
step11
Divide the dough into triangles, each piece of dough is about 60 grams. Cut a gap in the center of the base of the triangle. Roll up from the bottom edge and shape.
step12
After the bread is proofed for 20 minutes, brush the surface with egg wash.
step13
Put the proofed croissant in the JoyOuce air fryer. The air fryer is at 180℃ for 10 minutes. In fact, 5 minutes will do. Then cover with tin foil at 180℃ and continue for 15-20 minutes to get out of the pan!

Each air fryer is different. You can take it out to see the effect in the middle. If the tin foil cover is covered later, the surface will be darker, so the skin is very crisp. If you like to eat soft, you can cover the tin foil earlier.