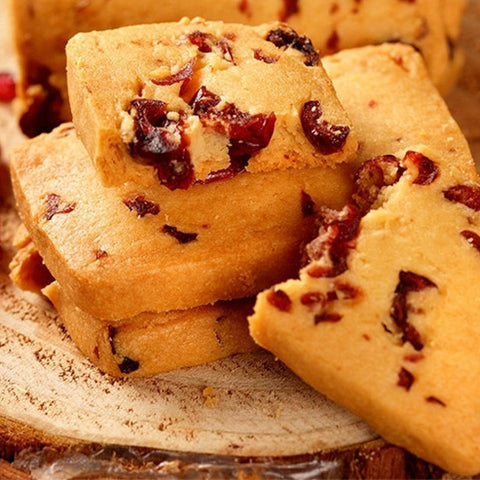 Ingredients
♦1 egg
♦200 grams of unsalted butter
♦350 grams of low-gluten flour
♦100 grams of dried cranberries
♦100 grams of powdered sugar (or white sugar)


Instructions
step1
The butter is softened at room temperature until the fingers can easily press down the small holes.
step2
Chop the dried cranberries in advance and set aside.
step3
Stir the butter and icing sugar thoroughly until the sugar is completely melted.
step4
Break up the whole egg liquid and add it to the butter paste in 2 times. When adding the egg liquid for the second time, make sure that it is evenly mixed the first time and the egg liquid has been absorbed.
step5
Sift the flour, add to the butter paste, and add the dried cranberries to the roux.
step6
Shape the roux into a rectangle (you can use a mold, or put it in oil paper or a fresh-keeping bag for manual shaping). Put it in the refrigerator for two hours (or freeze for 1 hour).
step7
Cut into slices and put in an air fryer. I like the light-colored roast at 160°C for 10 minutes, and the caramel-colored roast at 170°C for 10 minutes. It can be eaten after roasting.
step8
The performance of each fryer is different. In order to prevent burnt, you can open the grilling net to check at any time, and it will stop when you like it.