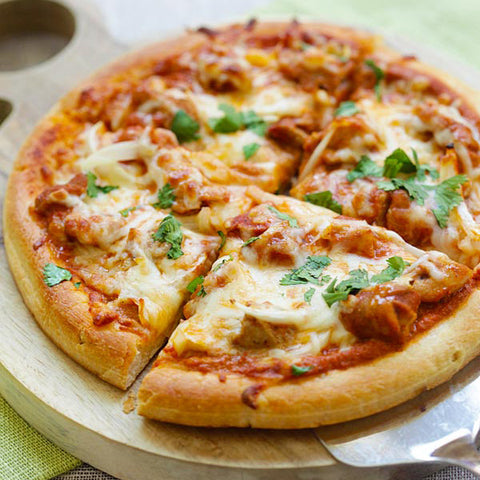 (300 g) skinless and boneless chicken breast, cut into 1/2 inch cubes

2 cloves garlic,finely chopped

1/2 teaspoon ground cumin

1/2 teaspoon minced fresh ginger

2/4 teaspoon ground black pepper

1/2 teaspoon chili powder

Handful of coriander leaves/cilantro

2 tablespoons plain yogurt

2 tablespoons heavy cream

Instructions
step1
In a bowl,add cumin powder,minced ginger,chili powder,1/4 teaspoon black pepper,1/4 teaspoon salt and marinate the chicken in the refrigerator for at least one hour.
step2
Spread a layer of aluminum foil in the air fryer for grilling. Spread the marinated chicken in a single layer on the basket and discard the remaining marinade. Bake the chicken at 330°F for 5 minutes, turning during halftime.
step3
Heat a small saucepan to melt the butter. Saute garlic and 1/4 teaspoon black pepper until fragrant. Add tomato paste and stir well. Season with salt, continue to simmer until the sauce thickens, and cook for another 2 minutes. Turn off the heat, add the chicken to the sauce and stir well.
step4
Preheat the JoyOuce air fryer to 330°F. Place the pizza crust on the pizza pan and lightly brush with olive oil. Spread the sauce/gravy on the pizza crust. Sprinkle with 1/2 cup cheese. Put the chicken on the pizza. Top with sliced ​​onion, chopped cilantro and remaining cheese.
step5
Put the pizza pan in the frying basket, the temperature is 330°F, and the time is 10 minutes. When finished, remove the pizza from the pan and decorate the remaining chopped cilantro.