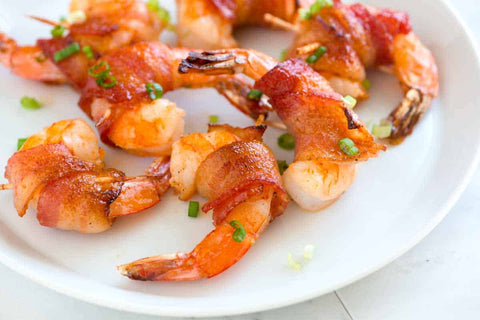 Ingredients
♦ 10 base tail shrimps
♦ 5 slices of bacon
♦ 1 spoon of cooking wine
♦ Salt, black pepper, and a little cooking oil
 
Instructions
Step 1
Head and peel the base tail shrimp, remove the shrimp thread, save the tail, and clean it.
Step 2
Add salt, cooking wine and black pepper to the prepared base tail prawns, and stir well.
Step 3
Grasp it with your hands to let it taste, and marinate for 10 minutes.
Step 4
Cut a piece of bacon from the middle into two pieces.
Step 5
Lay the marinated shrimp on the bacon and roll it up so that the tails of the shrimp are exposed. Tighten the mouth and fix it with a toothpick.
Step 6
Brush the surface with a little cooking oil in turn, preheat the fryer at 200 degrees for 5 minutes, and fry the shrimp rolls for 10 minutes.When cooking, you can pull out the frying basket to check the roasting effect of the bacon shrimp roll and turn it over.