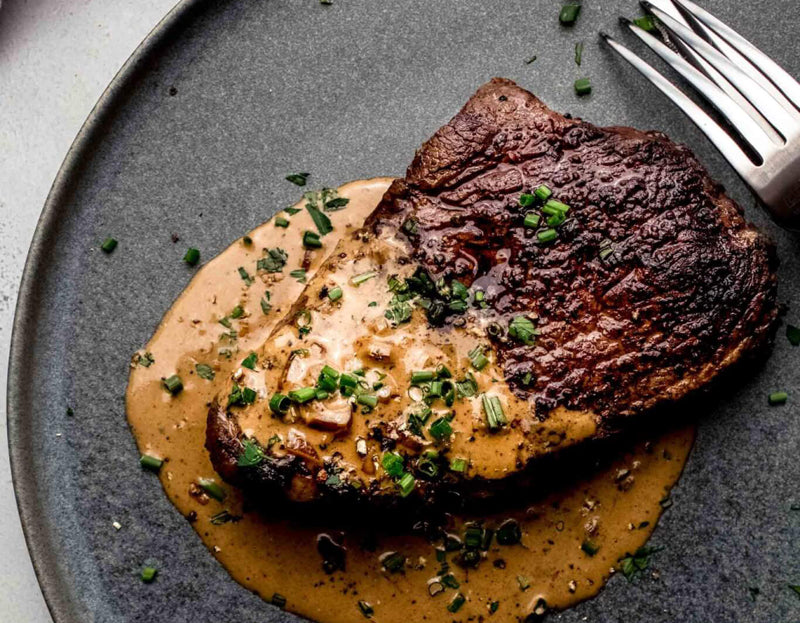 This classic steak recipe will make you swoon! Drizzle the filet mignon with the Diane sauce, made with cognac, heavy cream, stock, Dijon mustard, Worcestershire sauce, shallots and garlic that you'll love it. Perfect for a date night or some special occasion.
Ingredients
2 fillet mignon steaks
6 tbsp butter
kosher salt
freshly ground black pepper
2 shallots, chopped
1 garlic clove, chopped
2 tbsp chives, chopped
2 tbsp cognac or other brandy
1 tsp Worcestershire sauce
1 tsp Dijon mustard
200 ml (7 fl oz) beef stock
3 tbsp heavy cream
Practice
step 1
Remove any large pieces or silverskin from the steak. Beat the steaks with a meat mallet to a 3/4-inch thickness.
step 2
Season the steak with salt and pepper and let it rest at room temperature for 15-30 mins.
step 3
Melt the butter in a skillet over medium-high heat. After the butter has melted, turn up the heat and place the steak in the pan to cook for 1-4 mins, depending on the thickness of the meat. Use instant read thermometer Joy125 as a quick and efficient way to measure the steak temperatures. Transfer steaks to a plate and tent with foil.
step 4
Add the shallots and garlic to the skillet and cook over medium heat, stirring, for about 20 seconds, until fragrant.
step 5
Add Cognac to the pan. Using a long match or a long-handled lighter, carefully light the Cognac. Cook for another 30-60 seconds, until the flame goes out.
step 6
Add the Worcestershire sauce and mustard to the pan, stirring constantly. Pour in the beef stock and bring to a boil. Cook for about 1-2 mins or until thickened, stirring regularly.
step 7
Add the heavy cream, stir, and simmer for 2 mins.
step 8
Drizzle the Diane sauce over the steak and garnish with black pepper and chives. Serve with some fried potatoes and a green salad. Enjoy!
Tip:
Steak Doneness-Rare: 125°F; Medium-rare: 135°F; Medium-rare: 145°F; Well-done: 160°F.