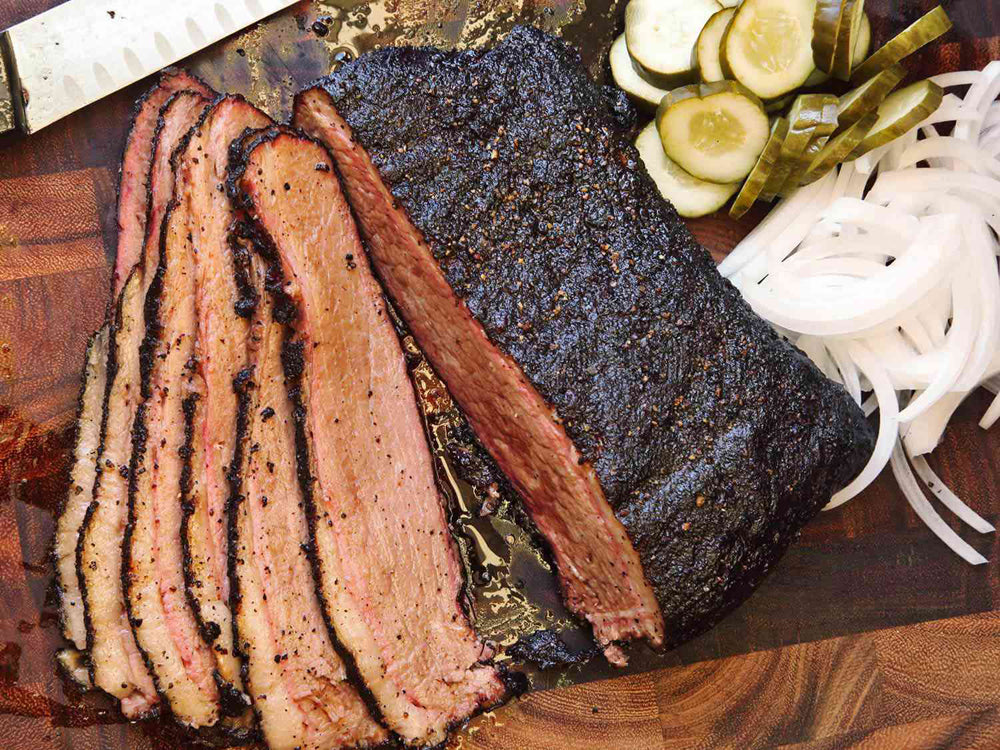 Picture from Serious Eats Publisher
This smoked brisket recipe is simply, seasoned with just four ingredients and slow-smoked on the smoker which promises a juicy, tender, and smoky flavor brisket every time.
| | | |
| --- | --- | --- |
| Prep Time | Cook Time | Servings |
| 30 mins | 10 hours | 15 |
Ingredients
15 lb whole beef brisket
1/2 cup kosher salt
1/2 cup freshly ground black pepper
1/3 cup garlic powder
1/3 cup paprika
Practice
step 1
Trim excess fat from the brisket. Trim the fat down to about 1/4 inch thick and remove the silvery skin from the backside.
step 2
In a small bowl combine kosher salt and black pepper, garlic powder, and paprika. Then season all sides of the brisket evenly.
step 3
Preheat smoker to 225℉.
step 4
Place the brisket fat side down on the grill, with the thickest end near the heat source. Cook until the internal temperature of the brisket registers 160°F on your instant read thermometer and develops a dark brown crust, about 3-4 hours.
step 5
Remove brisket from the smoker and wrap meat in butcher paper or aluminum foil. Return it to the smoker and continue cooking until the internal temperature of the brisket reaches 205°F, about 6 hours.
step 6
Remove the brisket from the smoker, still wrapped in paper, and let it rest for 1 hour, or until the internal temperature drops to 145℉.
step 7
Cut the brisket into 1/4-inch slices. Serve with your favorite sides. Enjoy!