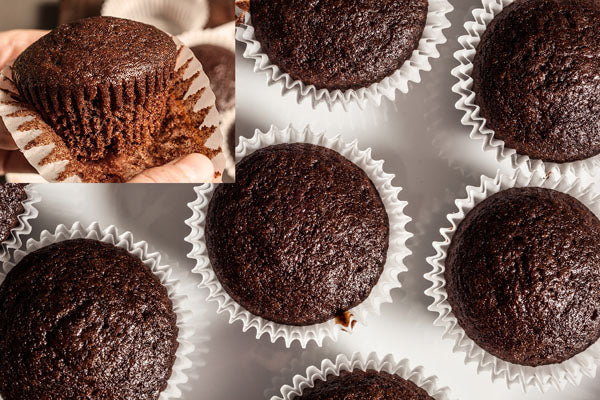 These small chocolate cakes are completely homemade. And in no more than 15 minutes, the cake can be finished. After preparing the materials, everything is done by the air fryer. Not only is it fast, but the chocolate cake made is also very good, the inside is fluffy and moist, and the chocolate aroma is also very strong. These little cakes are definitely one of the must-have desserts for afternoon tea.
Takes 15 mins, serves 2
Ingredients
1 cup original unsweetened soy milk
1 teaspoon apple cider vinegar
3/4 cup granulated sugar
1/3 cup corn oil
1 teaspoon pure vanilla extract
1 cup low-gluten flour
1/3 teaspoon cocoa powder
3/4 teaspoon baking soda
1/2 teaspoon baking powder
1/4 teaspoon fine sea salt
Practice
step1
Preheat the air fryer to 400°F for 5 minutes.
step2
Stir soy milk and apple cider vinegar in a large bowl; set aside for a few minutes to coagulate the milk. Add sugar and oil and stir until foamy. In another bowl, sift the flour, cocoa powder, baking soda, baking powder and salt, and mix well. Add it to the wet ingredients in two batches and beat them into no large lumps (a small amount of small lumps is sufficient).
step3
Pour into the paper cup of cake batter and fill 3/4 of it. Bake for 8-10 minutes until the toothpick inserted in the center is clean. During the baking process, the fried basket can be pulled out to check the effect.
Did you like this recipe? Let's create delicacy with JoyOuce air fryer to save more cooking time!
Limited-time exclusive discount! Use code 25WZ4543 at checkout. Enjoy 25% off plus free shipping. Click here!Shop Now