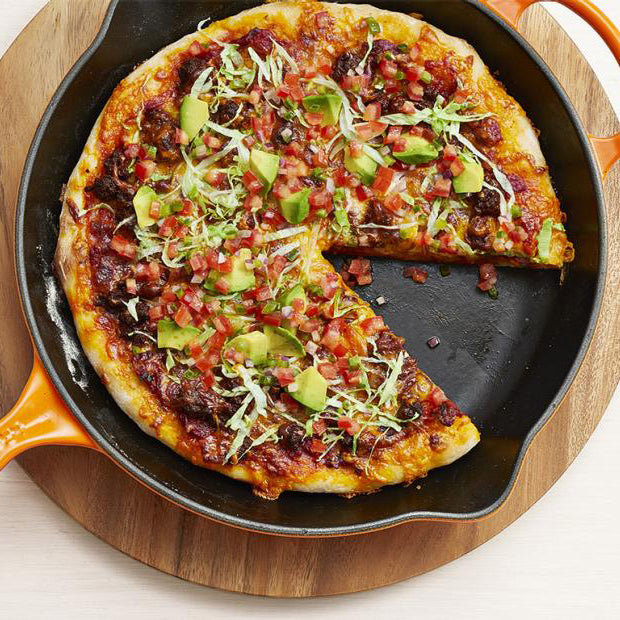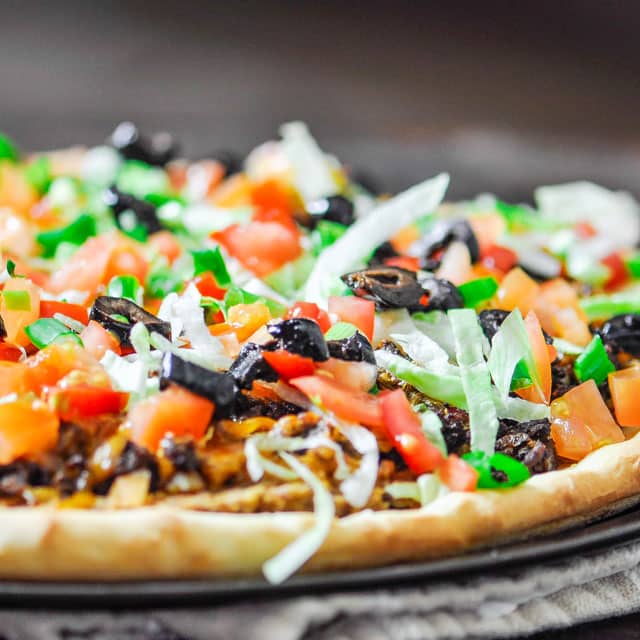 The Skillet Taco Pizza is delicious; it is easy to make Skillet Taco Pizza with an air fryer. This is an air fryerSkillet Taco Pizza production method.
Ingredients
1 pound refrigerated pizza dough,at room temperature

All-purpose flour,for dusting

3 tablespoons extra-virgin olive oil

2 cloves garlic,sliced

1 15-ounce can crushed fire-roasted tomatoes

1/2 teaspoon dried oregano

Kosher salt and freshly ground pepper

8 ounces ground beef

1 tablespoon chili powder

1 teaspoon ground cumin

1/2 teaspoon garlic powder

1cup shredded cheddar cheese (about 4 ounces)

1/2 small red onion,thinly sliced

1 cup shredded mozzarella cheese (about 4 ounces)

Shredded iceberg lettuce,chopped avocado and pico de gallo,for topping
Instructions
step1
Preheat the oven to 200˚ (or the highest temperature available). Press and stretch the pizza dough into a 12- to 13-inch circle on a lightly floured surface. Lightly dust the top with flour and cover with a clean kitchen towel.
step2
Heat 2 tablespoons olive oil in a medium saucepan over medium-high heat. Add the garlic and cook, stirring occasionally, until lightly browned, about 2 minutes. Add the crushed tomatoes and oregano. Bring to a boil, then reduce the heat to a simmer and cook until thickened and reduced to
about 1 cup, 10 to 12 minutes. Season with salt and pepper. 
step3
Meanwhile, heat a medium skillet over medium-high heat and add the remaining 1 tablespoon olive oil. Add the beef and season with a large pinch of salt and a few grinds of pepper. Cook, breaking up the beef with a wooden spoon, until no longer pink, 4 to 5 minutes. Add the chili powder, cumin and garlic powder and cook, stirring, until combined, 1 to 2 minutes. Transfer the beef mixture to a small bowl with a slotted spoon. 
step4
Heat a 12-inch cast-iron skillet over medium-high heat. Lightly sprinkle the skillet with flour and immediately add the pizza dough, stretching it as needed to completely cover the bottom of the skillet. Cook until the dough starts to puff slightly, about 2 minutes. Spoon the tomato sauce mixture all over the dough and spoon the beef mixture on top. Sprinkle with the cheddar, top with the red onion, then sprinkle with the mozzarella. Transfer the skillet to the oven and bake until the cheese is melted and bubbling and the crust is browned around the edges, 10 to 12 minutes. Let cool slightly. 
step5
Run a small spatula around the edges of the pizza to loosen. Top with lettuce, avocado and pico de gallo. Cut into wedges.