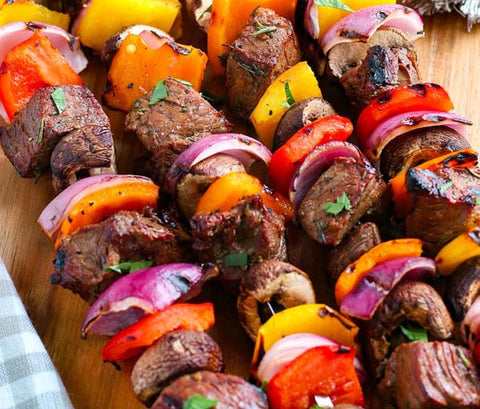 Sirloin Kabobs are one of the tastiest family-time dinners! These sirloin kabobs are layered with juicy tender pieces of flavorful, marinated sirloin and colorful tender vegetables. They are bright and juicy, and we can adjust the cooking time of the air fryer according to the tenderness we prefer.
Ingredients
1 pound sirloin
1 bell pepper
1 onion
8 mushrooms
Finely chopped parsley
Marinade:
2 tablespoons olive oil
2 cloves garlic minced
2 teaspoons dried rosemary
1 tablespoon lemon juice
1/2 teaspoon paprika
1 teaspoon ground black pepper
2 tbsp soy sauce
Moderate amount of salt
Practice
step 1
Put the marinade in a bowl and mix well. Cut the sirloin into 1-inch pieces, put the cut sirloin into the marinade, stir evenly, seal it and put it in the refrigerator for more than 1 hour.
step 2
Wash the bell pepper, onions, and mushrooms in water. Cut the bell peppers and onions into 1-inch chunks, and cut the mushrooms in half. Dry the water drops on their surface, or wipe dry with kitchen paper.
step 3
Preheat the air fryer to 350℉.
step 4
Skewer the prepared ingredients on the kabob, using different types of vegetables and sirloin alternately. (If the kabob is made of bamboo, you can soak the bamboo skewers in water for a period of time to prevent it from being burnt during the cooking process).
step 5
Spray the surface of the skewers with kitchen spray, and put the skewers into the preheated air fryer, and set the time to 18 minutes. During the cooking process, pull out the frying basket several times and turn the skewers over to prevent scorching until the skewers are charred on the outside and tender on the inside.
step 6
Put the grilled skewers on a plate, sprinkle with parsley, perfect.
Limited-time exclusive discount! Use code 25WZ4543 at checkout. Enjoy 25% off plus free shipping. Click here!Shop Now