Million Dollar Chicken Casserole is a classic comfort food that the entire family will enjoy, easy to make and savory. Crunchy Ritz crackers are the soul of this dish, and every bite is a true taste explosion when you scoop up a million dollar chicken casserole!
Ingredients
For the Chicken
4 boneless skinless chicken breasts or thighs, roughly 2 lbs
2 tbsp olive oil
salt and pepper, to taste
3/4 cup cream of chicken soup
For the Seasoning
8 oz cream cheese room temperature
1 cup cottage cheese
1/2 cup sour cream
10.75 oz cream of chicken soup
1/2 tsp garlic powder
1/2 tsp onion powder
1 sleeve Ritz crackers
5 tbsp unsalted butter melted
Practice
step 1
Heat the olive oil in a frying pan over medium heat and place the chicken in the frying pan. Season the top of the chicken with salt and pepper. Cook for 5 mins, then turn over.
step 2
Add the chicken stock and cook for 7-10 minutes, or until the inside of the chicken reaches 165°F as measured by the JoyOuce instant read thermometer.
step 3
Remove the chicken from the pan and shred the chicken. The chicken can be shredded with two forks or in a blender.
step 4
Preheat oven to 350°F.
step 5
In a large bowl add cream cheese, cottage cheese, sour cream, cream of chicken soup, garlic powder, onion powder and add chopped chicken. Stir well.
step 6
Transfer chicken mixture to a 9 x 13-inch casserole dish to form an even layer.
step 7
Add a sleeve of Ritz crackers to a medium bowl and crush into small pieces. Pour in the melted butter and mix well.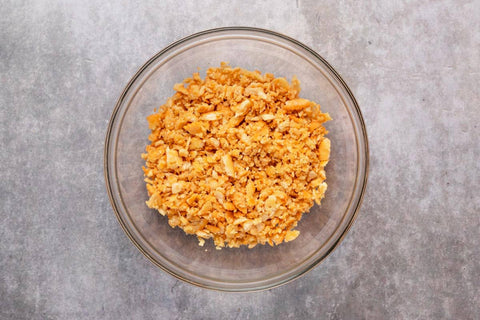 step 8
Sprinkle the Ritz crackers crumbs evenly over the chicken mixture.
step 9
Place the casserole uncovered in the oven and bake for 35-40 mins, or until the edges are bubbling and the crackers are golden brown.
step 10
Garnish with chives before serving if desired.