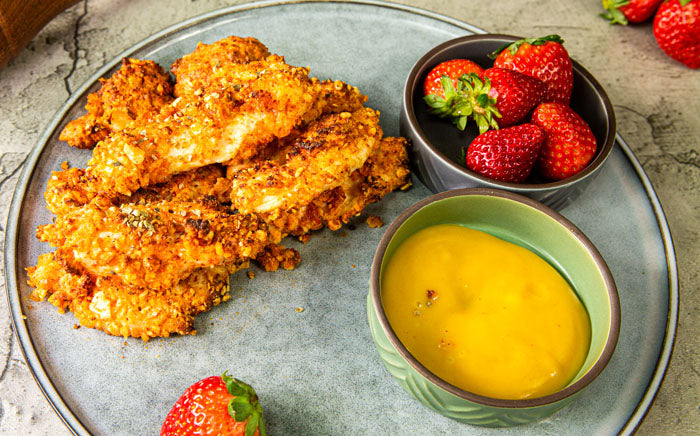 The fragrant, spicy, and crisp Air Fryer Hot Cheetos Chicken is a taste you will never forget after you taste it! We pair chicken with Hot Cheetos and dip it in Honey mustard sauce to satisfy your desire for tasty food. Come and take your Hot Cheetos Chicken one step further!
Ingredients
1 pound Chicken breast slices
2 cups flour
1/2tsp salt
1/2tsp white pepper
1/2tsp ground black pepper
1/2tsp chili powder
1 egg
2 cups of milk
One bag Hot Cheetos
Moderate amount of honey mustard sauce
(dipping sauce)
Related Product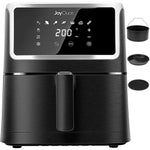 Joy3 Air Fryer 5.8QT Family Size
use code 25ZRK32J
50% off 
$119.99
$59.99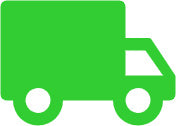 Free Standard Shipping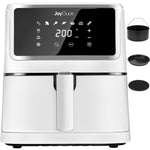 Joy3 Air Fryer 5.8QT Family Size-White
use code 25ZRK32J
50% off 
$109.99 
$56.99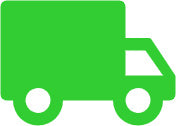 Free Standard Shipping
Practice
step 1
Take a medium bowl and add flour, salt, white pepper, black pepper, chili powder, eggs, and milk. Stir well.
step 2
Beat Hot Cheetos into crumbs with a kitchen food hammer. Put the Hot Cheetos crumbs in another bowl.
step 3
Dip the chicken breast slices into the prepared flour mixture, and then put them to the Hot Cheetos crumbs, making sure that both sides of the chicken breast slices are evenly covered by Hot Cheetos crumbs.
step 4
Preheat the air fryer to 400°F.
step 5
Place the chicken breast slices one by one in the air fryer basket. Set air fryer to 400°F for 8 mins.
step 6
Turn the chicken breast slices over 4 mins later, continue cooking for 4 mins or until the chicken slices are cooked through and the surface is crispy and golden.
step 7
Dip in honey mustard sauce and enjoy!
Limited-time exclusive discount! Use code 25ZRK32J at checkout. Enjoy 50% off plus free shipping. Click here!Shop Now
$109.99  $56.99 
50% Code + FREE Standard Shipping
Copy Code: 25ZRK32J