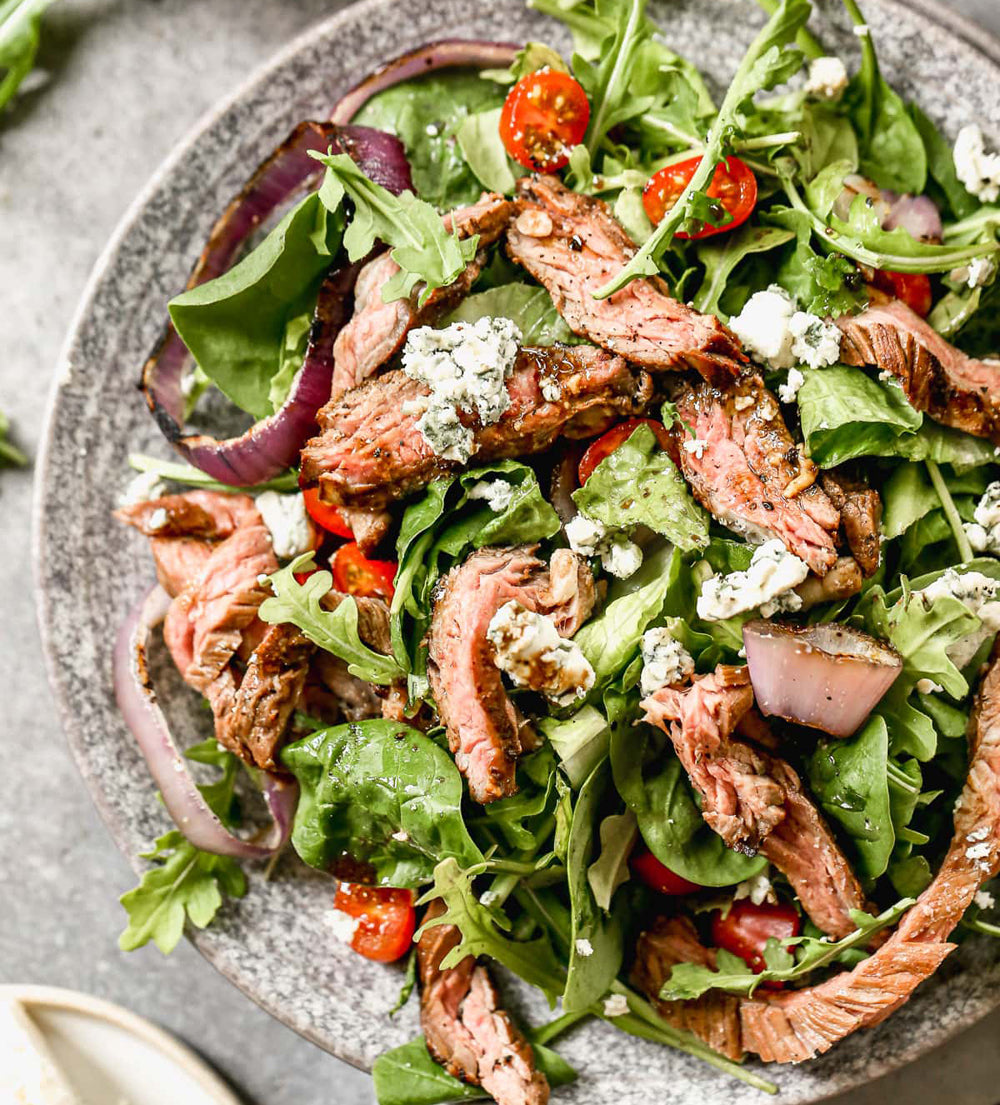 Picture from Well Plated Publisher
Grilled Steak Salad is a hearty and refreshing dish made with grilled steak, mixed greens, and your favorite toppings. The grilled steak adds a delicious flavor to the salad, and the mixed greens and toppings provide freshness and crunch. This salad is sure to be a hit with your family and friends!
| | | |
| --- | --- | --- |
| Prep Time | Cook Time | Servings |
| 20 mins | 8 mins | 2-3 |
Ingredients
1 (1-inch thick) ribeye steak, about 1 pound
1 tbsp olive oil
1/2 tsp salt
1/4 tsp black pepper
1/2 red onion, thinly sliced
1 cup mixed greens
1/2 cup arugula
1/2 cup cherry tomatoes, halved
1/4 cup crumbled blue cheese
1/4 cup balsamic vinaigrette dressing
Practice
step 1
Preheat your grill to medium-high heat.
step 2
In a small bowl, whisk together the olive oil, salt, and pepper.
step 3
Rub the steak all over with the olive oil mixture.
step 4
Grill the steak for 3-4 mins per side, or until it reaches the desired doneness. For medium-rare, the internal temperature should be 130 ℉.
step 5
Transfer the steak to a cutting board and let it rest for 5 mins before slicing thinly.
step 6
While the steak is resting, assemble the salad. In a large bowl, combine the mixed greens, arugula, cherry tomatoes, and blue cheese.
step 7
Drizzle the salad with the balsamic vinaigrette dressing.
step 8
Slice the steak and add it to the salad.
step 9
Toss to combine and serve immediately. Enjoy!
1. To prevent the steak from sticking to the grill, brush it with a little oil before grilling.
2. If you want to add more vegetables to your salad, you can try grilling some zucchini, mushrooms, or asparagus.
3. You can also use a different type of dressing for your salad, such as ranch, honey mustard, or vinaigrette.