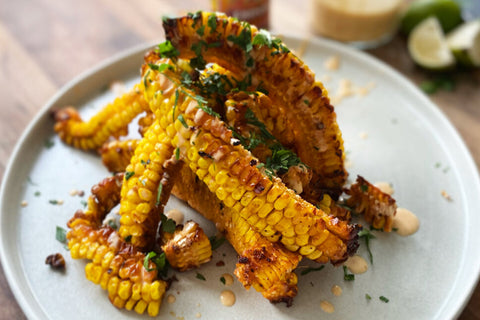 The grilled corn that smells so fragrant can't help but want to drool. Adults and children like it too much. Cooking with an air fryer is very simple, you can eat the crispy and fragrant grilled corn in less than 15 minutes.
Ingredients
3 fresh corn
2 tablespoons olive oil
2 teaspoons garlic powder
1 teaspoon paprika
1 teaspoon liquid smoke
Moderate amount of salt
Practice
step1
Peel the corn first and remove the excess crumbs. Wash the corn in clean water and dry it with kitchen paper.
step2
Cut off the end of the corn cob with a knife, and cut one corn into 4 portions, and cut off the corn heart in the middle.
step3
Add olive oil, chili powder, garlic powder, smoke liquid and salt in a large bowl. Stir until the mixture becomes a paste.
step4
Coat each corn rib with the mixture, and put the corn ribs on the air fryer basket that has been brushed with olive oil, leaving gaps on both sides, not too crowded.
step5
Set the air fryer to 375°F for 15 minutes, until soft and with crispy brown edges. In the middle, pull out the frying basket to check the cooking condition of the corn and turn it over.