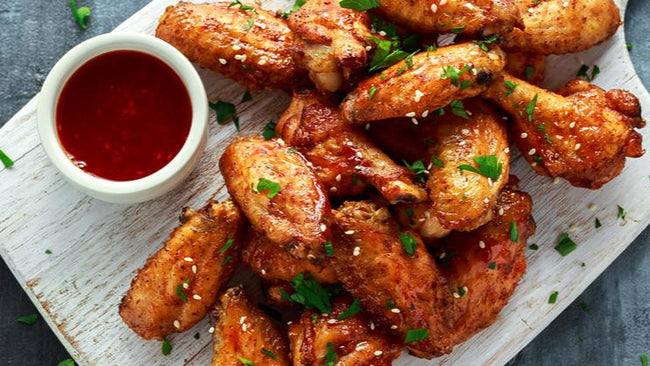 These delicious grilled chicken wings and drumsticks are perfect. They are crispy on the outside and juicy on the inside. Paired with our favorite sweet chili sauce, they are a favorite snack for children and adults, and they are also appetizing delicacies on the table.
Ingredients
8 chicken wings and 5 chicken legs
2 cups sweet chili sauce(small cup)
7 tablespoons soy sauce
3 tablespoons brown sugar
2 tablespoons fish sauce
1 tablespoon grated fresh ginger
1 tablespoon lime juice
1 tbsp sesame seeds
5 cloves garlic, finely chopped
Sliced green onions and parsley; set aside green vegetables for garnish
Practice
step 1
In a medium bowl, pour sweet chili sauce, soy sauce, brown sugar, fish sauce, ginger, lime juice, sesame seeds and garlic. Stir well.
step 2
Put the wings and chicken legs in a plastic zipper bag. Reserve 1/4 cup of the marinade for oiling, and pour the rest on the wings. Seal the bag and mix the contents. Refrigerate for 4 to 6 hours or overnight.
step 3
Preheat the air fryer to 390°F. Remove the wings and chicken drumsticks from the bag.
step 4
Place the wings and chicken drumsticks in the frying basket and spread them flat. Coat plenty of marinade. Set the time to 20 minutes, turn the chicken wings and drumsticks about every 10 minutes, and coat them with the marinade. Until the chicken wings and drumsticks are crispy and brown.
step 5
Put on the plate and sprinkle with green vegetables and sesame seeds.
Related Product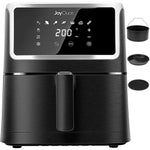 Joy3 Air Fryer 5.8QT Family Size
use code 207WF9PW
41% off 
$119.99
$70.99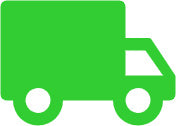 Free Standard Shipping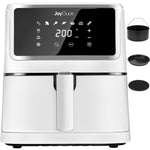 Joy3 Air Fryer 5.8QT Family Size-White
use code 207WF9PW
41% off 
$119.99 
$70.99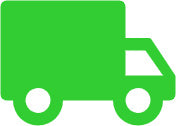 Free Standard Shipping