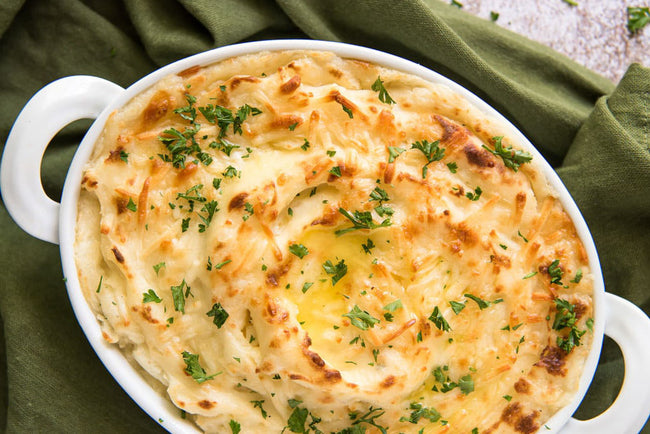 Give mashed potatoes a new recipe, no longer just a monotonous taste. Mashed potatoes with cheese, cream, and butter, with a hint of vanilla and garlic fragrance, will become a high-end dinner side dish. Let's enjoy the pleasure of food!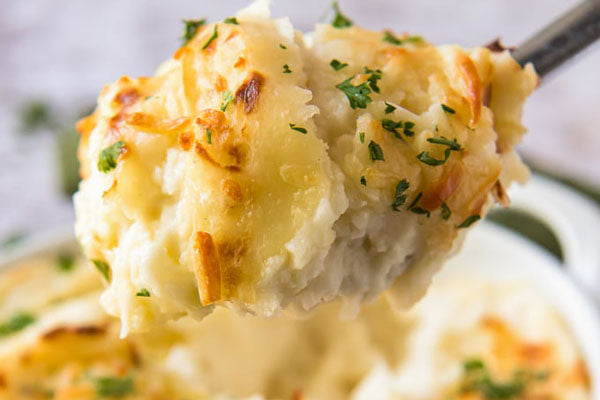 Ingredients
4 or 5 large potatoes (30oz-850g)
1 sprig of fresh thyme (or one tsp dried)
1 garlic clove
Nutmeg
1 cup heavy cream
1 egg (yolk)
50g-2oz butter
70g-2.5oz cheddar cheese
Salt and pepper to taste
Optional Italian parsley (flat-leaf)
Practice
step1
Wash and peel potatoes, trim off unsightly bits. Rinse under cold water.
step2
Put the peeled and washed potatoes on the pizza pan of the air fryer (or spread the foil on the air fryer and then put the potatoes), and then put the pizza pan in the air fryer.
step3
Set to 400℉, 30 minutes, until potatoes can easily pierce with a fork.
step4
Crush the potatoes (you can retain some graininess), add butter while still hot, and mix well.
step5
Add the right amount of salt and pepper to season the potatoes and stir well.
step6
Prepare the cream mixture: Peel and grind garlic into a saucepan. Add the cream to the pan. Add a little nutmeg (not much) and season with salt and pepper. Add a small amount of chopped fresh thyme or dried. Bring to a boil lightly, turn off the heat after 2 minutes (be careful not to overcook).
step7
Put the mashed potatoes in a baking bowl and flatten them with a fork. Take an egg, separate the yolk from the egg whites, and put the yolk in the prepared cream mixture. Take out all the remaining fresh thyme, add it to the cream mixture, and stir until combined.
step8
Grate the cheddar cheese and pour all the cream mixture over the mashed potatoes. Put all the grated cheese on top.
step9
Put the baking bowl with mashed potatoes into the air fryer, set it to 360℉, 8 minutes, and see the cheese is slightly burnt. Chop parsley and sprinkle on the mashed potatoes.
Tip: It is best to wait 30 minutes before serving and let it cool down.
Limited-time exclusive discount! Use code 25WZ4543 at checkout. Enjoy 25% off plus free shipping. Click here!Shop Now