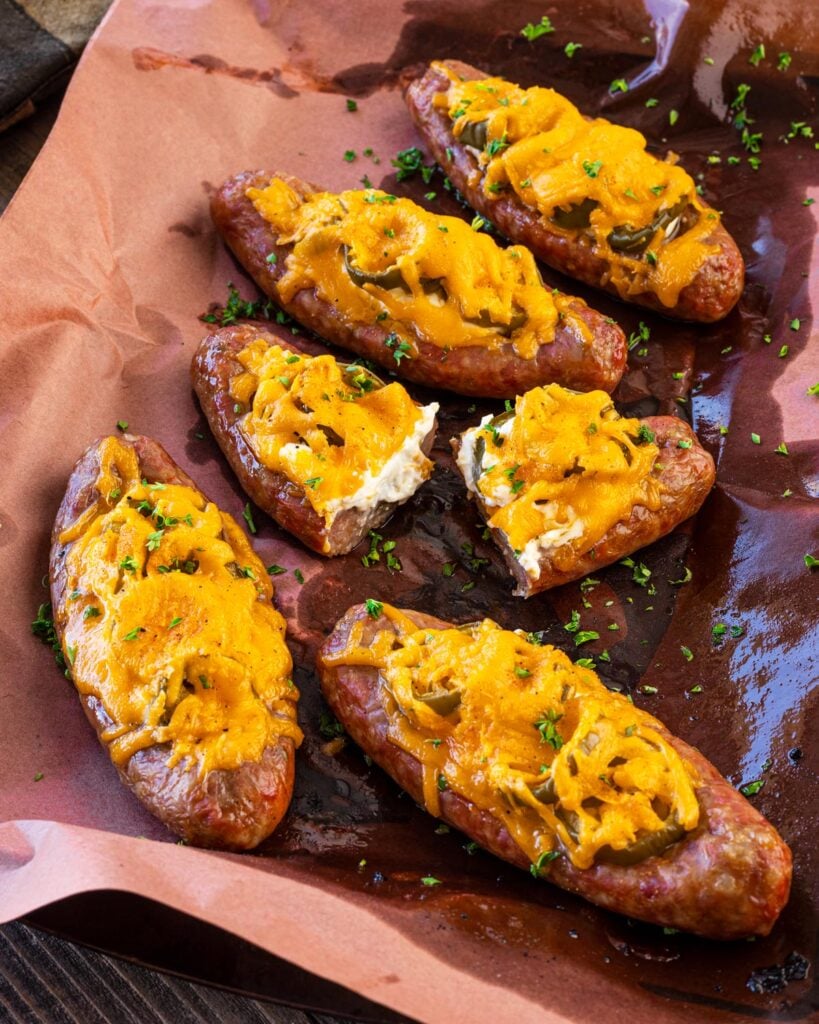 Picture from Chiles and Smoke Publisher
Cooking Bratwurst Popper Boats is a breeze. Whether you choose to grill, smoke, or bake them, the result is a dish that will tantalize your taste buds and leave your guests raving. As the bratwurst cooks, the cheese melts into a gooey, irresistible delight, while the jalapeños impart a touch of heat that balances the richness of the cheese.
| | | |
| --- | --- | --- |
| Prep Time | Cook Time | Servings |
| 10 mins | 25 mins | 8 |
Ingredients
12 fresh bratwurst sausages
8 ounces block of cream cheese, softened
1/2 cup shredded sharp cheddar cheese
1/4 cup chopped pickled jalapeños
1 tbsp BBQ seasoning
1 tbsp olive oil
Practice
step 1
Preheat grill or smoker to 300°F (150°C).
step 2
Using a sharp knife, make a lengthwise slit down the center of each bratwurst, stopping just short of the ends. Do not cut all the way through.
step 3
Gently open each bratwurst casing and flatten it slightly to form a "boat" shape.
step 4
In a mixing bowl, combine the softened cream cheese, shredded cheddar cheese, chopped pickled jalapeños, and BBQ seasoning. Mix well until evenly combined.
step 5
Using a spoon, scoop the cream cheese mixture into the prepared bratwurst boat, filling each boat generously.
step 6
Place the bratwurst boats on the prepared baking sheet. Drizzle the olive oil evenly over the bratwurst poppers.
step 7
Grill or smoke the bratwurst boats for 20-25 mins, or until the internal temperature reaches 165°F (74°C). Use a meat thermometer to check the temperature of the thickest part of the sausage.
step 8
Once the bratwurst boats are cooked through, remove them from the grill or smoker and let them rest for 5 mins before serving.
1. For a spicier flavor, add more pickled jalapeños to the cream cheese mixture.
2. If you don't have a grill or smoker, you can bake the bratwurst boats in a preheated oven at 375°F (190°C) for 20-25 mins, or until the internal temperature reaches 165°F (74°C).
3. Serve the bratwurst boats with your favorite dipping sauces, such as ketchup, mustard, or barbecue sauce.