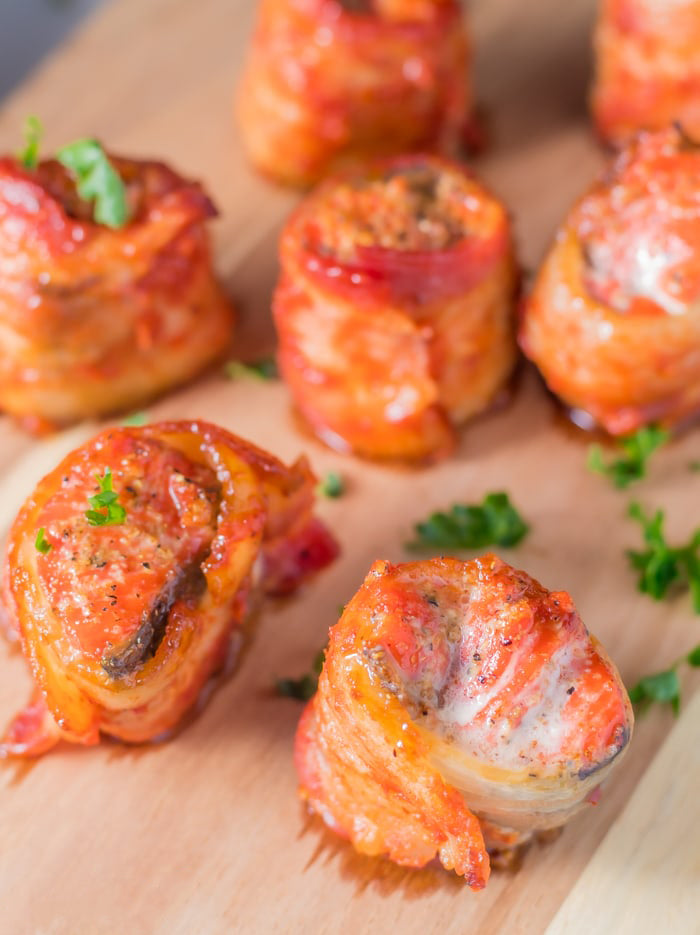 Picture from Sugarless Crystals Publisher
Bacon Wrapped Salmon Bites recipe is perfect for summer and a favorite for seafood and bacon lovers. Season the salmon with BBQ seasoning, wrap it in half a strip of bacon, and smear it with honey from time to time during the grill, which not only gives it a more perfect crust but also has a combination of sweet and salty explosive smoky flavor.
| | | |
| --- | --- | --- |
| Prep Time | Cook Time | Servings |
| 20 mins | 30 mins | 4-5 |
Ingredients
1 lb salmon fillet
1/2 pound bacon strips, cut in half
1/2 cup favorite BBQ seasoning
1 cup honey, for spreading
parsley (for garnish), chopped
Practice
step 1
Preheat smoker to 250℉. You can add some wood chunks to enhance the smoky flavor if desired.
step 2
Skin the salmon and cut into 1-1.5 inch cubes. Then wrap each salmon cube with half a slice of bacon and secure with toothpicks.
step 3
Season the salmon cubes with your favorite BBQ seasoning.
step 4
Cook the salmon cubes in the smoker until the internal temperature of the salmon reaches 125℉ on an instant read thermometer, about 20-30 mins. Brush the salmon with honey every 10 mins while cooking.
step 5
Remove the salmon from the smoker and transfer it to a plate to rest for 5 mins.
step 6
Sprinkle the parsley over the salmon for garnish. Serve with your favorite BBQ sauce. Enjoy!