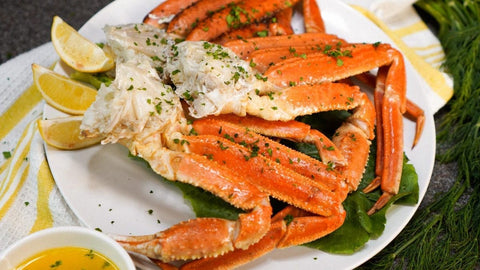 These delicious seafood-snow crab legs are still cooked in our JoyOuce air fryer, and it is extremely simple to make. It can be made in less than 10 minutes, which greatly saves the time for making delicious dishes. In addition, the cooked snow crab legs are fresh and tender, with melted butter as the sauce, you can imagine how delicious this taste is. This is definitely the main dish of choice for family dinners.
Ingredients
2 pounds snow crab legs
1 tablespoon olive oil
1 teaspoon old bay
½ teaspoon garlic powder
Right amount of parsley
Practice
step1
Clean the snow crab legs and dry them with kitchen paper.
step2
Pour the old bay, garlic powder and olive oil into a small bowl, stir evenly, brush the seasoning on the crab legs with a brush, put the brushed crab legs on the tin foil, and put the wrapped crab legs in In the basket.
step3
Set the air fryer to 350℉ for 7 minutes.
step4
Take out the cooked crab legs and place them on a plate, sprinkle parsley on the crab legs, and put a small bowl of melted butter next to it as a dipping sauce.
Limited-time exclusive discount! Use code 25WZ4543 at checkout. Enjoy 25% off plus free shipping. Click here!Shop Now