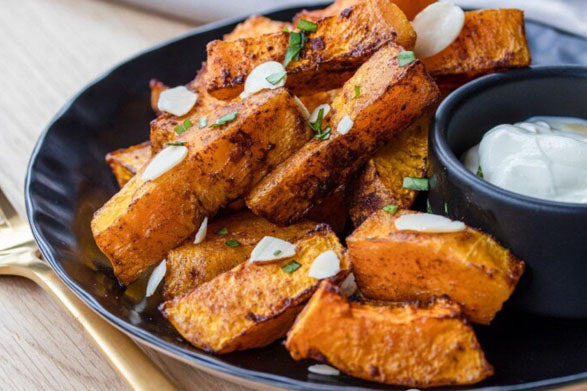 The Air Fryer Pumpkin Strips is a healthy snack that is rich in fiber and low in carbohydrates. These pumpkin strips mixed with black pepper are sweet and spicy. They are unstoppable after a bite. Extremely delicious! Let's cook with JoyOuce air fryer, and surprise your family and friends with different snacks!
Ingredients
1 pumpkin (ripe pumpkin)
1 tbsp olive oil
2 teaspoons black pepper
1 teaspoon salt
A pinch of coriander
Practice
step1
Cut the pumpkin in half, dig out the seeds and discard them, and cut them into French fries.
step2
Put the sliced fries-shaped pumpkin in a bowl, add olive oil, black pepper and salt. Stir well.
step3
Put the pumpkin strips into the preheated 400°F air fryer basket. Set the air fryer to 400 ℉ for 15 minutes. About every 5 minutes, remove the basket and shake it to redistribute the pumpkin and ensure even cooking. Check to see if the edges of the pumpkin strips have turned brown and serve with coriander on the plate.
Limited-time exclusive discount! Use code 25WZ4543 at checkout. Enjoy 25% off plus free shipping. Click here!Shop Now