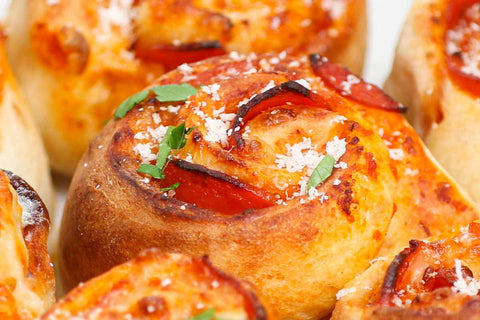 The fragrant air fryer pizza rolls are popular with children and adults. We wrap pepperoni and mozzarella cheese in the dough. In an air fryer, a 360° vortex of hot air is created to melt the cheese and cook the dough. Wonderful!Let's make this recipe together. In a refreshing morning or a leisurely afternoon, share delicious dishes with family and friends.
Ingredients
1 pound pizza dough

2 teaspoons olive oil

1 cup pizza sauce

1 cup mozzarella cheese

1 piece of pepperoni (sliced pepperoni)
Practice
step1
Roll the dough into a 12×16 inch rectangle. Brush the surface with olive oil.
step2
Spread the pizza sauce evenly on the surface of the dough. Top with pepperoni and mozzarella cheese.
step3
Roll the dough into a tight circle from the long end. Place the circular seam side down and cut it into 1-inch slices.
step4
Place the pizza rolls in a frying basket coated with olive oil and separate them by about 1/2 inch.
step5
Set the air fryer temperature to 375ºF and the time to 8 minutes. After 8 minutes, check every 1 minute until the cheese is melted and the dough is cooked.
step6
Sprinkle cheese and parsley at the end.