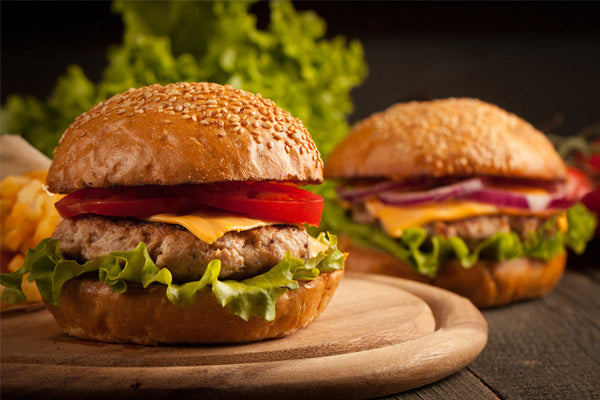 This delicious air fryer burger will become your next burger king! It cooks fast and keeps the burgers delicious and juicy. You will definitely feel like a burger master!
Ingredients
1 pound Lean Ground beef

1/2 teaspoon salt
1/2 teaspoon black pepper
1 small cup flour
1 small cup milk
4 Burger buns
1 onion
1 egg
3 slices of American cheese
Sliced tomatoes
lettuce
pickles
peanut butter
Salad dressing
Ketchup
Practice
step 1
Cut the onion in half, chop a half onion, and a half into thin strips. Put the chopped onions into a frying pan and fry for 2 mins.
step 2
Put the fried onion minced into a bowl, and add the right amount of peanut butter, salad dressing, and ketchup. Mix well.
step 3
Take another bowl, add eggs, flour, and milk to the bowl and mix well. Put the thin strips of onions into the flour mixture, making sure that the onions are covered with the flour mixture. Put them in the air fryer basket and set the air fryer to 300°F for 8 mins.
step 4
Combine ground beef, salt, black pepper, and oil in a large bowl, then add one-half of the minced onion mixture and mix well. Make 4 beef patties and flatten them with a round mold.
step 5
Put 4 beef patties into the air fryer basket and set the air fryer to 400°F for 8 mins. At 4 mins, turn the beef patties over. Put a slice of cheese on the beef patties' top immediately after they are taken out.
step 6
Start making your burger. Put lettuce, pickles, sliced tomatoes, beef patties, fried onions, and remaining minced onions on the burger, add salad dressing (or other favorite sauces) where you like, and serve.
Related Product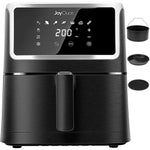 Joy3 Air Fryer 5.8QT Family Size
use code 25ZRK32J
50% off
$119.99
$59.99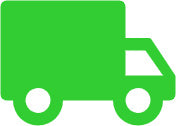 Free Standard Shipping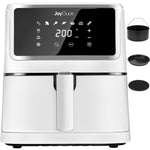 Joy3 Air Fryer 5.8QT Family Size-White
use code 25ZRK32J
50% off 
$109.99 
$56.99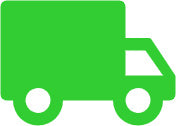 Free Standard Shipping