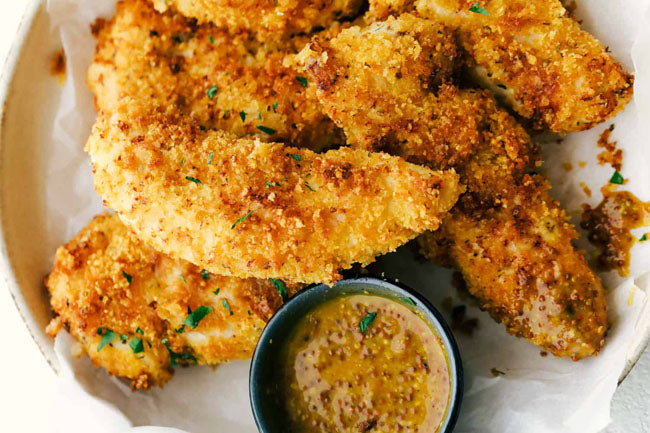 Delicious air fryer chicken tenders is golden and crisp on the outside, and the meat inside is tender and juicy, with a hint of lemon fragrance. It can be done in 14 minutes in your own air fryer at home, so convenient and healthy.
Ingredients
1 pound chicken
1/2 cup all-purpose flour
1/2 teaspoon ground pepper
4 tablespoons olive oil
2 eggs (beaten)
1/2 teaspoon minced garlic
1 teaspoon parsley
1/2 teaspoon paprika
1 cup Panko breadcrumbs
1/2 cup freshly grated Parmesan cheese
1 tablespoon lemon juice
Right amount of salt
Related Product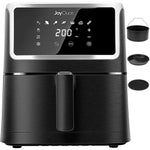 Joy3 Air Fryer 5.8QT Family Size
use code 25ZRK32J
50% off 
$119.99
$59.99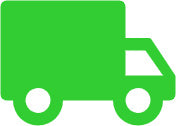 Free Standard Shipping
Practice
step 1
Remove the fat from the chicken and cut into 10 strips of the same size. So that the heating is more even.
step 2
Set the air fryer to 400°F for preheating.
step 3
Take a bowl, mix all-purpose flour, pepper, minced garlic and salt, and mix well. In a separate large bowl, pour the beaten eggs, olive oil, and lemon juice, and stir evenly. Add the prepared flour mixture to the egg mixture and stir evenly. In the third bowl, add Panko breadcrumbs, paprika and Parmesan cheese and mix well.
step 4
Put the sliced chicken into the egg mixture and stir evenly until the surface of the chicken is completely covered with the egg mixture. Then put it in the breadcrumb mixture, turn and press on all sides to spread evenly.
step 5
Take out the preheated air frying basket, brush a layer of olive oil on the surface of the frying basket, put in the prepared chicken tenders, leave a certain gap in the middle, do not overcrowd, and ensure that the surrounding area is evenly heated.
step 6
Set the air fryer for 14 mins. Turn the chicken tenders halfway through until the internal temperature of the chicken tenders reaches 165 ℉ or the surface is golden and crispy.
step 7
Serve on the plate and sprinkle with parsley. Enjoy.
Limited-time exclusive discount! Use code 25ZRK32J at checkout. Enjoy 50% off plus free shipping. Click here!Shop Now
$109.99  $56.99 
50% Code + FREE Standard Shipping
Copy Code: 25ZRK32J