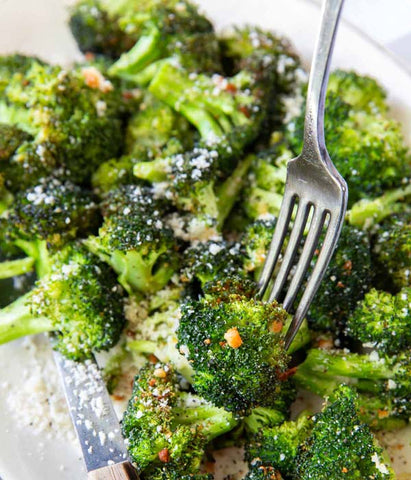 Air fryer broccoli is definitely one of the favorite side dishes for vegetarians. Not only are they healthy, but they are also particularly convenient to cook in an air fryer. This time we also added Parmesan cheese to the broccoli recipe. This is a great attempt. The broccoli has a better taste and is full of aroma.
Takes , serves 2.
Ingredients
1 fresh broccoli
1 teaspoon pepper
½ teaspoon garlic powder
1 teaspoon salt
1 tablespoon olive oil
2 tablespoons grated Parmesan cheese
Practice
step1
Cut broccoli into small flowers, cut very large small flowers into quarters, and small ones into half. Wash the broccoli in water, use kitchen paper to soak up the water drops on the surface, and put it in a bowl.
step2
Pour olive oil on the broccoli and stir evenly so that the surface of the broccoli is covered with olive oil. Pour in pepper, garlic powder and salt and stir well.
step3
Put the seasoned broccoli into the frying basket of the air fryer, not overlapping as much as possible, and spread evenly in a layer. Set 370°F for 10 minutes. On the way to cooking for 5 mins, pull out the frying basket and let the broccoli shake well, add grated Parmesan cheese, and cook for 5 minutes until the broccoli is crispy and soft.
step4
In the process of eating, you can also add a little salt according to your taste.
Limited-time exclusive discount! Use code 25WZ4543 at checkout. Enjoy 25% off plus free shipping. Click here!Shop Now