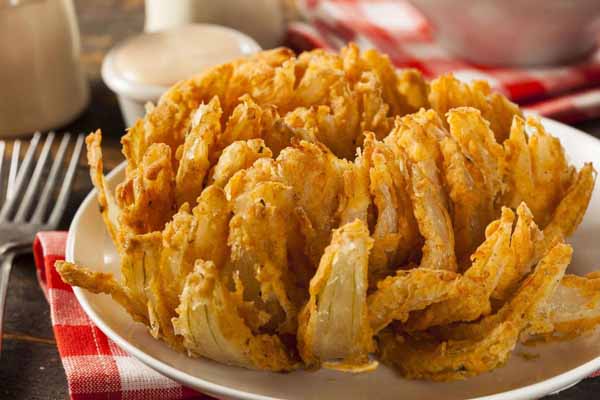 You will be amazed at the beauty of air-fried onion flowers! Blooming onions are crispy and flavorful. It is a good appetizer that will boost your appetite. It uses very little oil and is healthy and safe. You can eat it with your family without worry.
Ingredients
1 large sweet onion
½ cup all-purpose flour
1 teaspoon paprika
1 teaspoon garlic powder
½ teaspoon dried thyme
2 large eggs, beaten with a whisk
1 cup milk
Salt and pepper to taste
Non-stick cooking spray
Practice
step1
Cut off the top of the onion to ensure that it is 1/2 inch flat, keep the root intact, and remove the skin of the onion. Turn the onion over, with the roots facing up, and place it on the cutting board. About 1/2 inch from the roots, start cutting down to the cutting board. Repeat cutting evenly and at intervals, almost a dozen times.
step2
Carefully turn over the cut onion and let it stand for a few minutes until the separated onion becomes a flower like petals.
step3
Take a large bowl, put the ingredients flour, chili powder, garlic powder, and dried thyme into the bowl and mix well. In another bowl where the eggs have been beaten with a whisk, add milk and mix well.
step4
Put the onion in a large bowl with the petals facing upwards, and use a large spoon to spread the flour mixture evenly on the onion petals, especially between the petals of the onion. Wait ten seconds, turn the onion over, and gently shake off the excess flour mixture.
step5
Put the onion into the egg mixture, make sure that the surface of the onion petals is coated with liquid, take out the onion and put it back into the flour mixture, and repeat the previous dusting process, shaking off the excess flour mixture.
step6
Put a piece of parchment paper on the air fryer basket and spray the parchment paper with non-stick cooking spray. Put the onions in the basket and set it to 380°F for 15 minutes. Spray onions with cooking spray 2~3 times during cooking until the onions are golden and crispy.
step7
Take out the onion and put it in a bowl, season with salt and pepper. It is perfect to eat with dipping sauces (such as chili mayonnaise, fried sauce, ketchup, cheese sauce, etc.)
Limited-time exclusive discount! Use code LUCKY023 at checkout. Enjoy 25% off plus free shipping. Click here!Shop Now