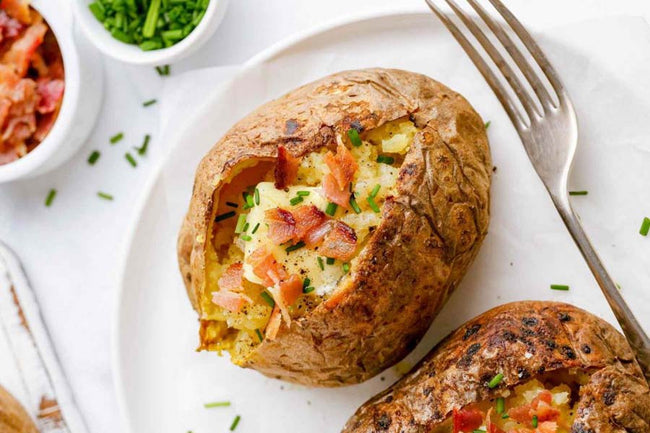 This is a newer and more creative potato cooking. The crispy rind and the soft and fragrant inside, coupled with delicious shredded cheese, pepper, etc., all your favorite ingredients, make the air fryer baked potatoes more delicious and incomparable.
Ingredients
3 medium russet potatoes
1/2 teaspoon sea salt
Cooking spray
1/2 teaspoon garlic powder
1/2 teaspoon ground jalapeno
2 slices of cooked bacon, chopped
3 small pieces of shredded cheese
Right amount of green onions for garnish
Practice
step1
Clean the potatoes and dry them with kitchen paper. Poke the potatoes on the surface with a fork a few times. Spray the surface of the potatoes with oil and coat with salt and garlic powder.
step2
Put the potatoes in the air fryer, set 400℉ for 30 minutes, until easily pierced with a fork.
step3
Take out the cooked potatoes and cut 1/2 on the surface. Do not cut to the bottom. Use a fork to loosen the inside of the potatoes. Add shredded cheese and sprinkle with pepper, shredded bacon and green onions, and you can eat directly.
Limited-time exclusive discount! Use code 25WZ4543 at checkout. Enjoy 25% off plus free shipping. Click here!Shop Now