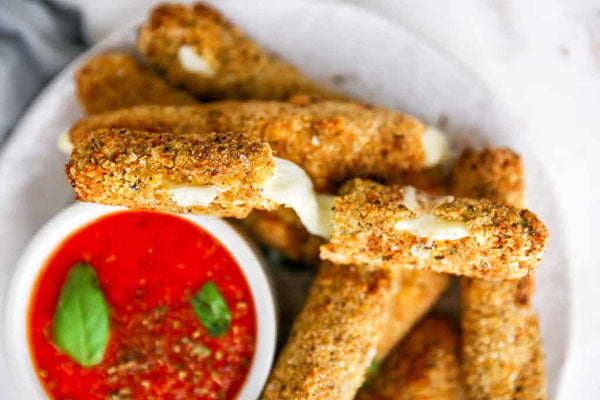 Homemade Italian style air fried mozzarella sticks are very delicious. The mozzarella cheese sticks are sweet and crispy, filled with gooey, stretchy,and it is so delicious that it can't stop. It is a great appetizer and also a tasty snack.
Ingredients
12 whole milk mozzarella sticks
1 cup breadcrumbs
2 tbsp Italian seasoning
2 tsp garlic powder
2 tsp onion powder
2 tsp salt
1 tsp black pepper
1/2 cup all purpose flour
4 large eggs
Right amount of marila sauce
Kitchen spray
Related Product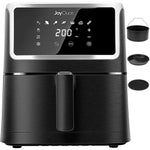 Joy3 Air Fryer 5.8QT Family Size
use code 20DEALSZ
20% off + $20 coupon
$119.99
$75.99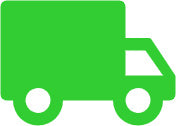 Free Standard Shipping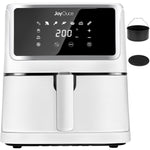 Joy3 Air Fryer(2a) 5.8QT Family Size
use code 20DEALSZ
20% off + $20 coupon
$116.90
 $75.32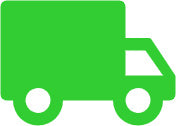 Free Standard Shipping
Practice
step 1
Preheat the air fryer to 400℉.
step 2
Take out three bowls. Put breadcrumbs, Italian seasoning, garlic powder, onion powder, salt and black pepper in the first bowl and mix well.
step 3
Add flour to the second bowl.
step 4
Whisk eggs and put them in the last bowl.
step 5
Dip each mozzarella stick in flour, then dip it in the egg liquid, then dip it into the breadcrumb mixture. Again, dip it in the egg liquid, and finally dip it in the breadcrumb mixture.
step 6
When all the sticks are ready, spray your air fryer with kitchen spray. Put these sticks into the air fryer basket, and then spray sticks with kitchen spray.
step 7
Cook for 6 mins, rotating halfway.
step 8
Last,let them cool for a few minutes, then serve with dipping marila sauces and enjoy!
Limited-time exclusive discount! Use code 20DEALSZ at checkout. Enjoy 20% off plus free shipping. Click here!Shop Now
$119.99  $75.99 
20% Code + $20 Coupon + FREE Standard Shipping
Copy Code: 20DEALSZ