As we all know, obesity has become a global health problem. We have become overweight due to more and more convenient but unhealthy foods. Problems such as high blood pressure and diabetes caused by obesity are more and more perplexing people, and the concept of healthy eating is becoming more and more important.  
I usually love fried foods, but traditional fried foods are too high in calories. For the sake of good health, I have to control my appetite. Since I started with the oilless air fryer, now I can enjoy fried food. With the popularization of oil-free air fryer, more and more people have discovered its advantages. They do not need oil to make fried food, they are easy to operate, and they are more low-fat and healthy to eat. Its principle is to make food achieve the effect of frying through internal heat circulation, which tastes the same as fried food, but does not have the high calories of fried food at all.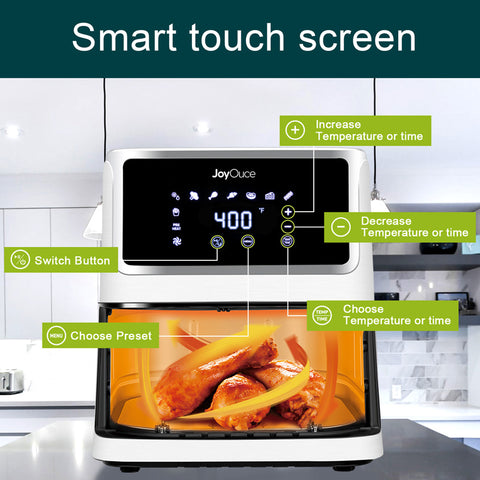 Today, James will share with you an air fryer delicacy, which is very simple to make. If you like it, you may wish to try it. The chicken wings are tender on the outside and served with honey mustard sauce. The spicy flavor is moderate and slightly sweet. The more you eat, the more addictive you get. (If you don't like the mustard sauce, you can change to other sauces you like)
Ingredients: 
6 chicken wings, 1 tablespoon of light soy sauce, 1 tablespoon of cooking wine, 1 tablespoon of oyster sauce, 1 tablespoon of honey, appropriate amount of honey mustard sauce, a little white sesame
Steps:
Step 1: Put a knife on one side of the chicken wings. Add light soy sauce, cooking wine, oyster sauce, honey, and marinate for half an hour
Step 2: Put the chicken wings into the air fryer and fry at 180 degrees for 12 minutes. Turn it over halfway through.
 Step 3: Brush the fried chicken wings evenly with honey mustard sauce and sprinkle with cooked sesame seeds.
After reading the above introduction, do you think it is simple enough? Its practical air fryer cooking is not very complicated. As long as you read my air fryer recipes, you can create your own delicacy one day. Delicious food makes life Even better!if you don't have an air fryer, you can log in to our website https://joyouce.com/ to choose!
air fryer costco, best air fryer, air fryer recipes, air fryer price, air fryer amazon
small air fryer, air fryer walmart, argos air fryer, large air fryer