How can we make delicious food in the simplest way? Air fryer gives you the best answer!
"God, the food is tempting, but the production process is too cumbersome!"
"These kitchen appliances for cooking food are too difficult to clean."
"Speechless, I always can't fry french fries or bake bread. Who can help me?"
"Food that needs to be fried always makes my kitchen very smokey. What should I do?"
As the saying goes: "The people put food first." Generally, humans cannot escape delicious food. Delicious food can make us happy and enhance our happiness. But not everyone is a chef, and when you go out to eat, you will worry about whether the food is clean and safe. Even if you have good cooking skills and busy preparing a meal, the time and energy spent will drive you crazy. The most terrible thing is to clean up the kitchen appliances that you have just used. Some kitchen appliances that are difficult to wash can last a long time...Seeing this, have you already begun to be in it? So today I would like to recommend your good kitchen partner—JoyOuce's air fryer! It's so easy to use!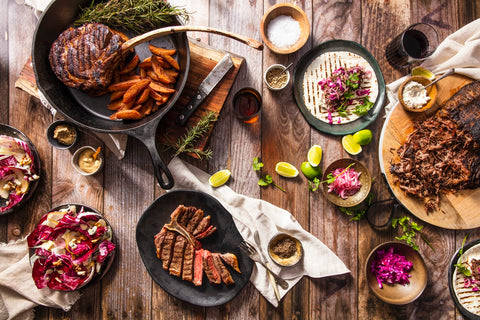 JoyOuce The Latest Smart Digital Control no Oil Non-stick Safe and Reliable Air Fryer, this air fryer can solve your worries for only $90! It's still a 5.8QT large-capacity air fryer, and you want to be a family member.
Don't rush away, take a look at us and see how convenient this air fryer can bring you? What kind of dishes can help you make, it really doesn't just fry things. It's really convenient, and it can fry things without oil.
JoyOuce's air fryer can "heat cooked food". The cooked food bought from the supermarket or store is directly put into the air fryer, such as cooked pig's feet, cooked chicken wings, fried octopus, sauced beef, etc. Put it in the pot for five minutes to inspire its original deliciousness! It's so easy and convenient to add some sauces yourself!
JoyOuce's air fryer can process semi-finished products. For example, the French fries, chicken wings, chicken nuggets, etc. purchased on the Internet can be put in the pot for several minutes to ten minutes. It is convenient and delicious. You don't need to turn the food yourself. JoyOuce's air fryer is turned 360° by itself. Yes, intelligent control, even better than what you fried! With it, it is very convenient, and you can easily make the food you want to eat.
JoyOuce's air fryer can also bake some cakes and desserts. It is almost the same as the bread tarts bought outside, provided that you can learn how to use the air fryer to make egg tarts on the Internet. Friends who bought an air fryer here can make Basque cheese cake in the simplest way, as well as fried rice cakes and lamb skewers. The taste is almost the same as the one made by the barbecue outside.
The most important thing is that it can save you fuel! The principle of the air fryer is to use high-temperature air to replace the hot oil in the original frying, so that the food is cooked, and the ingredients are similar to the effect of frying. Even if some food requires oil, JoyOuce's air fryer can be crispy and crispy without a lot of oil! Reduce your calorie intake and reduce the production of fat.
With this JoyOuce air fryer, as long as you have a recipe for air fryer, you are also a Michelin chef. And it is easy to disassemble, non-stick coating, suitable for dishwashers, and easy to clean! My friend, if you want to eat delicious food but are afraid of trouble, choose it, you will never regret it! Come and have a look at https://joyouce.com/ now!