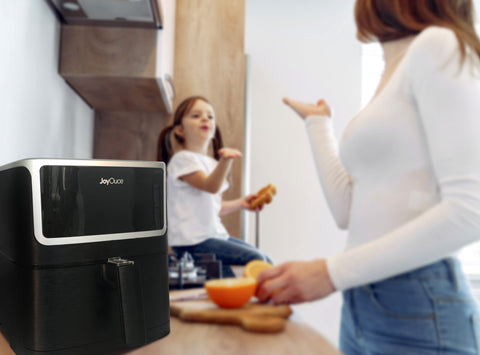 The most convenient kitchen appliance for parents, all you need is an air fryer!
When you want to give your parents some small gifts of kitchen appliances, and are still considering whether to give a microwave or an oven, I hope you can look your eyes here right away. All you need is an air fryer, which saves your parents a lot of trouble!
Nowadays, there are more and more kitchen appliances and more advanced. All kinds of kitchen appliances almost occupy most of our kitchen. The complicated process of using these appliances will always waste our time and occupy our space. And you only need to buy JoyOuce5.8 QT kitchen Appliance Multi-function No Oil non-stick Electric Air Fryer to solve a lot of troubles and improve the happiness of your family. At the same time, this is your best choice.
Many people think that I am helping them to speak nice things, right? No, this is true.
JoyOuce's air fryer can cook a variety of gourmet dishes, but the food made by the simplest method is the most delicious. It can not only French fries, which are crispy on the outside and soft on the inside, but also can be used as egg tarts. There are a variety of other fried, fried, braised, and fried dishes that you can choose JoyOuce's air fryer.
There are so many air fryer, why should I choose JoyOuce to give to my parents?
First of all, this excellent price-performance ratio will surely convince you!
High performance-price ratio: Cast aluminum material has very good thermal conductivity, which is conducive to more uniform heating of food. With 360-degree heating, it can also intelligently check food and turn it over. Let your parents save yourself the time and energy of flipping, which also reduces the chance of burns to the elderly.
Easy to clean: split design with non-stick coating. When cleaning after frying, just take out the frying basket for cleaning. The split double-layer basket is easy to clean and can be cleaned in the dishwasher. Free the hands of parents.
LED display control, intelligent temperature display: temperature control is more accurate and operation is more convenient!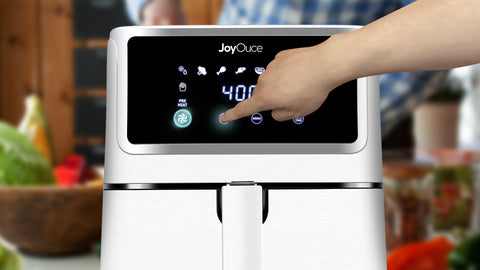 The safety factor is high: there is a small handle and the handle is anti-scalding, so you don't have to worry about your parents being scalded by using this high-temperature air fryer.
JoyOuce's air fryer is well received by users, and their air fryer users' praise is 100%. And JoyOuce also welcomes buyers to comment and follow-up on their products, because this will help them make better improvements. Buyers will also get some small gifts from JoyOuce after comments, which is very rare. The quality is also very good for a merchant who is so humble and only seeks continuous improvement. And their air fryer is currently doing activities for 129 dollars and now only costs 90 dollars. Friends who want to buy an air fryer can quickly check out JoyOuce's products, and if you think it is suitable, you can buy it immediately with a discount!
It is a good choice to make your favorite food or give it to your parents. When the food exudes a tempting aroma, I think you will not regret buying JoyOuce's air fryer! Because it is really beautiful, the smart and convenient operation brings the greatest convenience to your parents.
Parents always don't ask their children to give precious gold and silver treasures. They have worked hard for a lifetime. Even if you don't have time now, it's time to use modern technology to share the hard work of your parents. Why not buy them a practical and convenient air fryer?
Buying JoyOuce's air fryer as a gift to your parents, I think it's the right choice for you. Don't hesitate to go to https://joyouce.com/ and choose your favorite air fryer, and bring your love home!
air fryer
kitchen appliances
air fryer recipes
best air fryer
air fryer reviews
air fryer best seller
air fryer 5.8 qt
air fryer oven