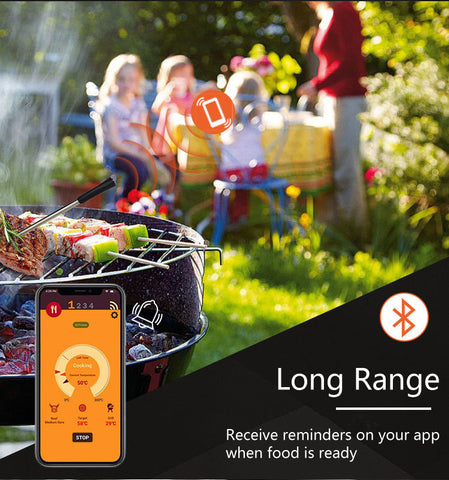 ● Long Range
The JoyOuce smart wireless meat thermometer with Bluetooth technology is designed for use in cooking all types of meat.The outdoor open range can be up to 100 feet, allowing you to truly enjoy the cooking experience of long-range monitoring. The kitchen is enclosed by the oven up to 30 feet away.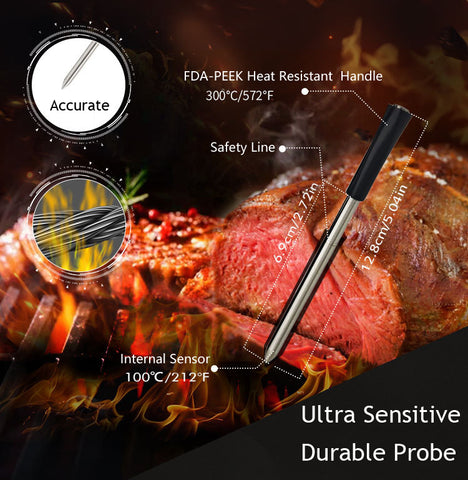 ● Dual temperature sensors
The Bluetooth meat thermometer adopts dual temperature sensors, which can monitor the internal temperature of meat (32~212 °F) and the ambient temperature (32~572 °F) at the same time. The wireless meat thermometer features an ultra-sensitive, durable probe with a heat-resistant FDA-PEEK handle on the top to monitor temperatures up to 572°F (300°C) and the bottom up to 212°F (100°C).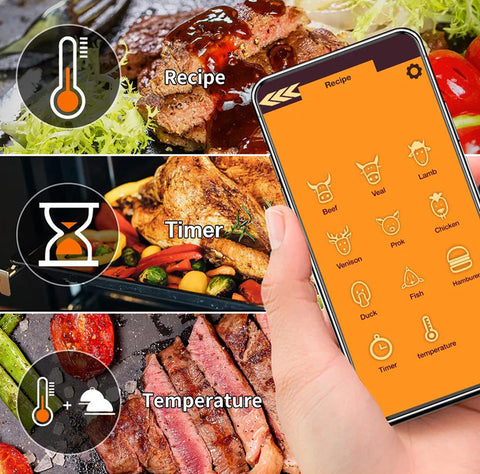 ● App control
The Grill ProbeE app is your smart chef, monitoring the temperature of the cooking environment inside the food in real time, you can also customize the cooking time, temperature and alarm temperature, and remind you the first time when the food is finished. 9 kinds of meat preset temperatures: There are 9 kinds of food recipes in the app, you can choose the corresponding type and the preferred doneness according to the food you are cooking, or customize the recipe, which will realize your cooking freedom, and cook your food perfectly.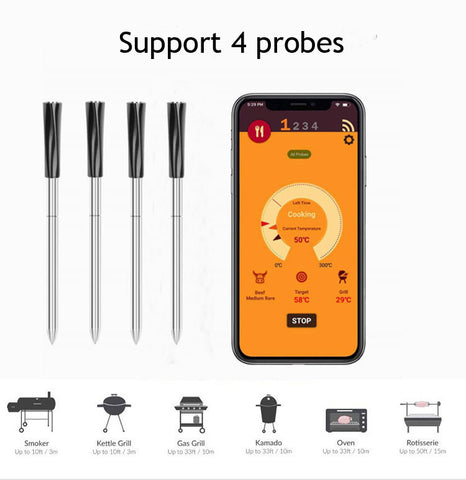 ● Support 4 probes
Bluetooth digital thermometer can support 4 probes at the same time, cook more food in a limited time, and better manage your time.


● Magnetic Charging Stand

The classic black premium charging stand can protect your wireless thermometer and 5-minute fast charge your Bluetooth digital thermometer for up to 8 hours of cooking time. The back of the charging stand of our smart meat thermometer has a strong magnet that can be attached to the refrigerator, oven, or other metal surfaces for easy storage.
Excellent meat thermometer
Beautiful pork belly with an accurate and handy thermometer makes my roast juicy, highly recommended.
Keep using it
When I got it I wasn't sure if it performed as well as described, but I'm willing to believe it because it looks premium. Looking at the beef cooked with this thermometer, it seems to be fine. I will keep using it.
Perfect thermometer
JoyOuce Digital Thermometer it managed to catch my eye because I used to be a big fan of the JoyOuce air fryer, which I have been using to this day and it still works flawlessly. Without further ado, I love the idea of a thermometer, the combination of a single probe and an app is amazing, even while grilling, I can just walk away and do whatever I want until it rings to remind me The barbecue is ready. I think he has a high degree of accuracy and it can also estimate the cooking time of the roast! Great thermometer, recommended for all BBQ lovers.
Like it
I didn't pay much for this digital thermometer, but it's well worth it because it works great. It wasn't as difficult to operate as I thought, and it worked in the oven even when I closed the oven door. This app can support four probes at the same time, I'm planning to buy another one for my backyard outdoor grill, it would be great.
Easy tu use
No doubt this thermometer is easy to use, it cooks my roast to perfection, even to the exact doneness I set. The only downside is that the top of the probe is so hot after the roast is done again that I don't have a good tool to pull it out right away without getting burned.